Buy Nothing Day at Calvin College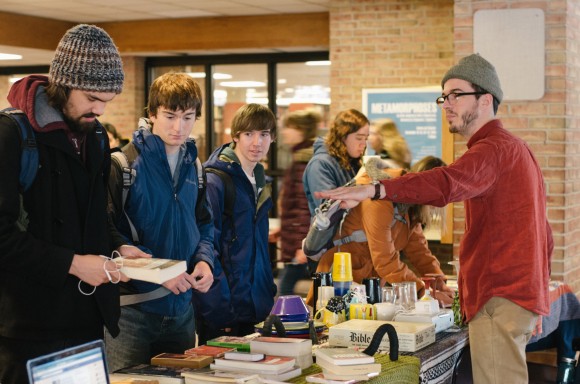 Our friend Kyle Luck has been volunteering for Geez at his school in Grand Rapids and held a Buy Nothing Day event on November 21. Below are a few words from Kyle, along with some photos. – Kyla Neufeld, Managing Editor
Last Friday, a team of student volunteers at Calvin College organized a Buy Nothing Christmas celebration and "free store" in anticipation of Black Friday. Inspired by Geez's anti-consumerist philosophy, we welcomed students and faculty – as well as members of the broader Grand Rapids community – to join us. We're estimating that 300-500 folks stopped by throughout the day with donations, questions, and mugs for coffee and eggnog. We took signatures for a sustainable energy petition, listened to some great Christmas music, and donated our leftover items to Salvation Army. Together, we learned a little more about when to take what we need and how leave what we don't.
The story was also picked up by International Business Times (for which Editor Aiden Enns was also interviewed), and you can read about it here. You can also read about the event in Calvin College's student newspaper, Chimes
Kyle Luck is a student of Religion and Philosophy at Calvin College in Grand Rapids, Michigan.