Notes from Turtle Island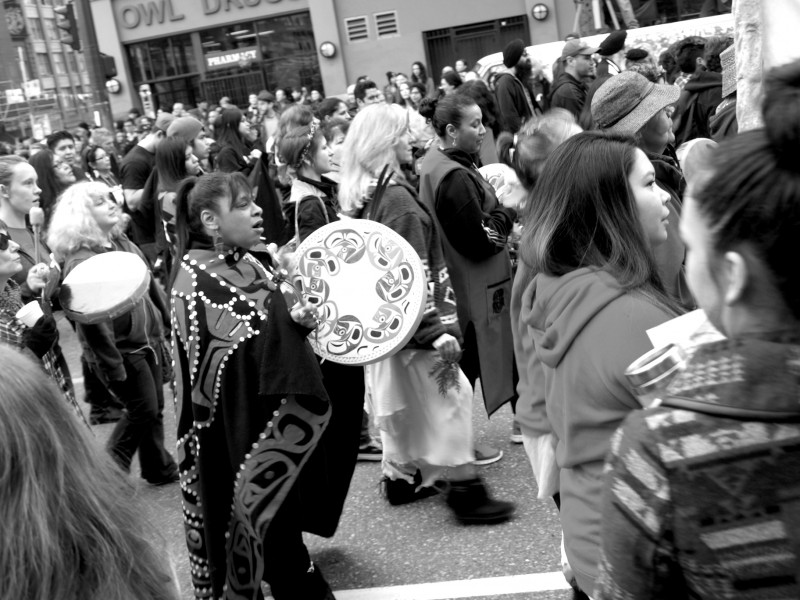 As Geez magazine finds a new home, we hope to honour the magazine's snowy roots in northern Turtle Island by continuing to highlight contemplative cultural resistance in a Canadian context. When we peel back the veneered catchphrases of multiculturalism and peacekeeping, we find common ground with our U.S. neighbours yet see some struggles as unique. We want to uplift this land, its stories, and the voices that cry for prophetic change.
Recently, Jody Wilson-Raybould, the first Indigenous Minister of Justice and Attorney General of Canada, a boundary-breaker, and member of the We Wai Kai Nation, stood up to the current Prime Minister, Justin Trudeau, frequently lauded for his good looks and supposed feminism. "I come from a long line of matriarchs and I am a truth teller in accordance with the laws and traditions of our Big House," she declared to the House of Commons. By emphasizing her Indigeneity and matriarchal strength and by publicly disagreeing with Canada's most powerful man, she gives birth to new possibilities for future generations of Indigenous people.
When Canada's first Prime Minister created institutions to 'take the Indian out of the child' – like residential schools, based in genocide and assimilation – he didn't account for Indigenous resilience and maternal strength. The Indigenous people of Turtle Island rose from the systems created to destroy them and continue to rise. Deep in the Vancouver's Downtown Eastside (the epicentre of the housing and opioid crisis), Indigenous Elders and matriarchs of many nations lead the Women's Memorial March, an annual event honouring the many Missing and Murdered Indigenous Women and calling for an end to violence. For more than 20 years, Elders have led the march with prayers and medicine, brought bannock and cedar to the people, and cooked meals at sit-ins. From the urban frontline to unceded land and to the highest levels of government, Indigenous women* are midwifing healing, mothering change, and dismantling Canada's unholy trinity of colonialism, capitalism, and white supremacy.
On Secwepemc territory, women warriors are building tiny homes in the path of the Trans Mountain pipeline, and at Unist'ot'en Camp, peacefully resisting militarized advance on Wet'suwet'en territory. In solidarity, clergy and church leaders have participated in actions across the country, including the blockade of construction site gates and, more recently, fasting for Bill C-262, which aims to align Canadian law with the United Nations Declaration on the Rights of Indigenous Peoples (UNDRIP). May we tune our ear to the Creator and to the voices of those who have always been creating life and truth-telling on these lands.
*Our use of the word "women" includes trans and two-spirit people.
Céline Chuang and Benjamin Hertwig are both second-generation immigrant settlers, descended respectively from the Chinese diaspora and German-Hungarian ancestors. They live and write on unceded Musqueam, Squamish, and Tsleil-Waututh territories (Vancouver, British Columbia).
Image credit: "Women's Memorial March – Vancouver, B.C.," Jen Castro CC, flickr.com/jencastro.
Dear reader, we welcome your response to this article or anything else you read in Geez magazine. Write to the Editor, Geez Magazine, 1950 Trumbull Ave Detroit, MI 48216. Alternately, you can connect with us via social media through Twitter, Facebook, or Instagram.