The Soapboxer
Half-assed ascetic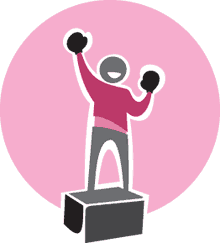 As much as I'd like to consider myself an ascetic, I probably get drunk too often to qualify. And even without that specific vice, it's hard to imagine ever being able to match the big leaguers like Saint Francis, Gandhi, and those fellows who permanently hold their arms above their heads to the point of disfigurement out of some sort of Hindu devotion.
The exploits of that crowd tend to intimidate me. But I love the stories. Like in Suketu Mehta's book Maximum City: Bombay Lost and Found, where he describes the members of a wealthy Jain family of diamond merchants who take diksha – renouncing all their worldly possessions to become wandering, barefoot mendicant monks. Their grand send-off consists of a parade through the streets in elephant-drawn carts so they can lob handfuls of money and gold to the cheering crowds. As if that weren't enough, they then renounce each other; the husband departs in one direction with his sons, the wife in another with her daughter. Their subsequent days are spent begging for food with nothing to their names but an alms bowl and two unstitched pieces of cloth to wear. Pious Jains praise the selfless act. Cynics speculate derisively that the local mafia must have been after them or that there must be a trust fund in place should the family have second thoughts. Mehta catches up with the man months later to update the story. His bare feet are "cracked, calloused, split, and blackened" from his trek, but his heart, he insists, is at peace.
So what does this mean for me? Should I follow suit? Cash in my savings so that I can hand out crisp $100 bills on the streets of Vancouver's Downtown Eastside and start walking to Prince George?
Probably not. I can't even match my favorite ascetic, Uncle Ernst, who lives year-round in a lakeside, uninsulated cabin that has neither electricity nor plumbing. He maintains a rigorous meditation regimen and once holed himself up in a Thai Buddhist monastery for a month, meditating all day and subsisting on rice and water. I wouldn't have lasted more than a few hours [[before needing a diversion, a beer or something]].
But I do strive for a degree of self-denial based on my religious convictions, though an objective observer might question my adherence to austere ideals. For starters, I'm not interested in banishing the great pleasures of good food, drink, and general merriment. A world without frothy pints of pale ale would not be for me. So that's why I've decided that it doesn't have to be an "all or nothing" venture. Take my '89 K-Car station wagon. Automobile ownership may automatically exclude me from being an ascetic, but what about the fact that it's a $400 beater that I went halfers on with my brother – the two of us have our own car co-op. Or that it sits parked most of the time because I only bought it so I could visit my folks – who were largely responsible for any ascetic inclinations I have – and go camping – surely an exercise in asceticism, MEC gear notwithstanding.
I figure I'm downright Gandhian by North American consumption standards. Our society is so unaccustomed to – and in fact, scared of – Spartan living, that the Unabomber's defense attorneys cited the stark 10' by 12' shack he lived in as proof of his insanity. That's part of the appeal for me; if mainstream society looks down on simplicity, then it must be good. But more than that, I seek simplicity because I have stood with refugees queuing for their meagre food ration and I cannot gorge myself with the knowledge that they are always hungry. I seek it because the Earth cannot sustain our appetite for resources. I seek it because I have long since tuned out the foot soldiers of turbo-capitalism constantly imploring me to buy. I seek it also in deference to my religious heritage – though I am careful not to romanticize the asceticism of my Anabaptist forebears that grew out of persecution, displacement and poverty.
And despite all these stated motivations, my affinity for simplicity is ultimately rooted in some intangible spiritual considerations; considerations that are a shrouded mystery, and, as far as I'm concerned, can remain so.
I also recognize that I do self-denial on my own terms. If I didn't enjoy biking, it would likely not be my primary means of transportation. If I didn't like toasted peanut butter and cheese sandwiches, that would likely not suffice for dinner. If I didn't hate to shop for clothes so much, I would probably wear new duds more often.
Still, I do genuinely believe that my inroads toward asceticism – fully recognizing that others have made far greater advances than I – count for something. And I like to think I'm taking cues from the Buddha, who left the opulence of his father's palace to embark on an ascetic search for enlightenment. But after six years of austerity and severe fasting that almost sent him to an early grave, he realized the ascetic path just increased suffering rather than bringing enlightenment. Go figure. Turns out the path to take is a 'middle way.' Mind you, after this realization he then proceeded to sit under a tree for seven weeks until he achieved enlightenment himself, and then slogged through the India countryside for the next 45 years to share this epiphany. Pretty harsh middle road.
I don't aspire to be Buddha, or Saint Francis, or the Jain diamond merchant-turned barefoot monk. I simply try to tune in to the curiously satisfying mystery of austerity. I may not get it all right and maybe I should beat myself up a little more over whether my life is austere enough. But I don't want self-denial to become self-flagellation. So I fumble along and cherish the thought – presumptuous as it may be – that even my half-assed version of asceticism has me pointed in the right direction.
_Nicholas Klassen is a former senior editor with Adbusters magazine, and now a senior partner at Biro Creative