Eucharistic Thimbleberries Rising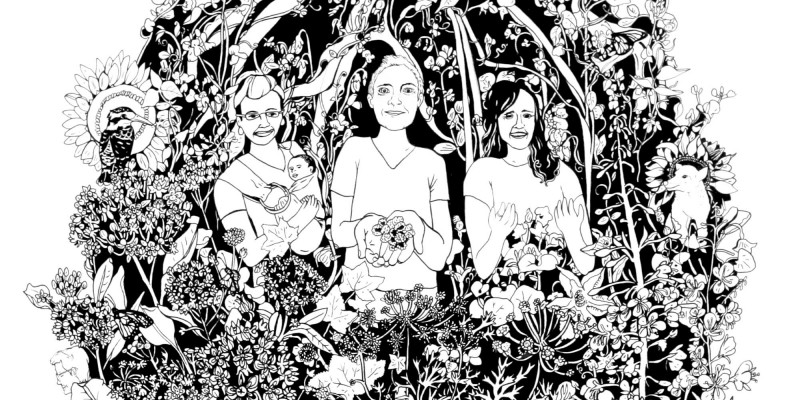 Last summer, COVID snuck its way through my family's very cautious practices right as the thimbleberries were ripening in waves in the woods at the top of our block.
In the Lake Superior watershed, thimbleberries have been sweet sustenance for people in this place long before us. They used to be as abundant here as blueberries, which were said in Anishinaabe lore to have made the whole hillside appear blue.
I joked, mid-quarantine, that the thimbleberries would save us, right? I was only half-kidding. Not only did the promise of shared sticky handfuls beckon us to bring our healing bodies among the trees each day, but for me, passing the red berries out from the prickly thicket is always a Eucharistic act. Here, with red juice on our fingers, as we feed each other and let God feed us, we join the feast of a great community of living and dead.
I am interested in a practice of Eucharist that is a commitment to the specifics of place – the stories of the land, the original peoples, of immigration, settlement, trauma, and resilience. I am a settler on land stolen from the Anishinaabe that continues to be colonized, changed beyond recognition from what it was before. It is land that is haunted and holy. Between the grids of roadways, this place maintains enormous, green, riotous life. And it groans to be healed. When my body is among the trees and the life that they sustain, I do not experience a hollow, pastoral peace, but a creaturely chorus of complication.
In my illumination "Burning Bushes," I am imagining a Eucharistic ritual which reflects the belief that the whole biodiverse Earth is teeming with God.
Here, we practise a storied tradition replete with greed and violence, kinship and meaning-making, death and resurrection. We feed one another and are fed on storied lands. We are storied people. We are surrounded by animal teachers with their own stories. We know that we are made of the soil of all that has come before us. If we are to live in accountability to and intimacy with this story, alongside an accountable God, we must be ready to take the pollution into ourselves and transform alongside it.
Our rituals and sacraments can no longer be (and indeed were never meant to be) enclosed, curated gardens. We instead radically welcome the muddy mystery of the whole. Rita Nakashima Brock and Rebecca Ann Parker write that in early Christian Eucharistic feasts "it took a whole community to reflect the image of God." What if that definition of community includes mustard plants, butterfly weed, fossils, and thimbleberries?
The body of Jesus was also co-created by viruses. The small, wet baby, cradled in his mother's muscular arms, surrounded by animal huffs and stomps, had the calligraphy of the bacterial and mycelial face of God running through his veins. As the baby got older, he reminded us that living and loving fully means being baptized in the muddy and polluted waters of the world, viruses and all. "We were never separate. Use mud and bread to heal."
We are transformed into our fullest selves one chunk of bread, one mouthful of wine, and one red, sticky handful of thimbleberries at a time. This transformation allows us to live into our miraculous ability to break cycles of violence and create connection and love outside of patterns of oppression. We are never separate from plant and animal and mineral and human story. Can the practice, the ritual, the sacrament of Eucharist awaken and reawaken us to that reality? Can it be a tool of connection to the whole holy, horrible, real, paradise of life?
Sarah Holst (she/they) is a white parent and artist living on Anishinaabe land known as Duluth, Minnesota. Sarah spends her days creatively collaborating with two wild little kids.