"Irreverent yet always earnest" - Globe and Mail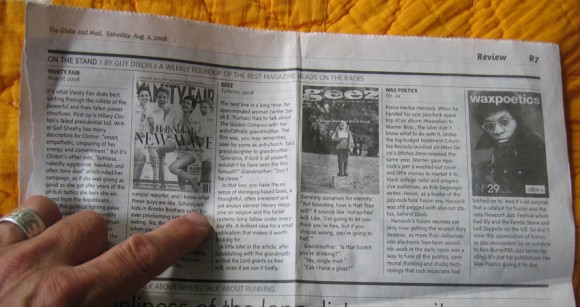 It's nice to get a mention in Canada's paper of record, The Globe and Mail. Not bad; we're stuck between Vanity Fair and Wax Poetics. Thanks to JB for the headsup and DD for the clipping.
The best line in a long time: An open-minded woman (writer Sarah E. Truman) tries to talk about The Golden Compass with her arch-Catholic grandmother. The film was, you may remember, seen by some as anti-church. Said granddaughter to grandmother: "Grandma, if God is all present, wouldn't he have seen the film himself?" Grandmother: "Don't be clever."
In that line, you have the essence of Winnipeg-based Geez, a thoughtful, often irreverent and yet always earnest literary magazine on religion and the belief systems lying fallow under everyday life. A brilliant idea for a small publication that makes it worth looking for.
A little later in the article, after establishing with the grandmother that the Lord grants us free will, even if we use it badly, damning ourselves for eternity: "But Grandma, how is that 'free will?' It sounds like 'not-so-free' will. Like, 'I'm going to let you think you're free, but if you choose wrong, you're going to hell.'"
Grandmother: "Is that Scotch you're drinking?"
"Yes, single malt."
From On the Stand: A weekly roundup of the best magazine reads on the racks, by Guy Dixon, The Globe and Mail, Saturday, August 2, 2008