Aliens and margins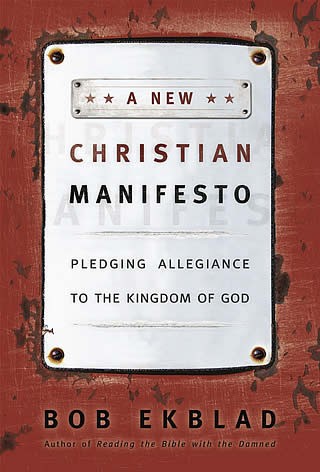 Bob Ekblad's new book, A Christian Manifesto (Westminster John Knox) has been dominating my thinking over the past few weeks. It's a bold call to Christians to make themselves aliens to the dominant powers of culture – especially militarism, nationalism, and violence – and relocate at the margins of society alongside the poor, illegal immigrants, prisoners, and addicts.
He draws together his work as a scholar, contemplative, activist, evangelist, and charismatic, each role informing the other. The book is a distant relative to Francis Schaeffer's Christian Manifesto, specifically addressing the American political and religious climate, but the challenge to renounce all other allegiances in service of God's Kingdom is for all Christians.
He writes a lot about charismatic experiences, especially healings, and that sort of thing makes me squirm. Miraculous encounters with God sometimes seem like membership cards in a special club, and anyone without one simply doesn't have enough faith.
Obsess over the spectacular you're likely to miss the wonder of the everyday. But the "everyday" for Ekblad is work with illegal immigrants and prisoners in Washington, and what he seeks is real change for those he serves.
I also shy away from talk of miracles because it's usually hyper-individualistic and self-centred, but Ekblad sees the structural forces of evil more clearly than the usual charismatic evangelist. His analysis of social structures is like a fired up sermon from a preacher who reads a lot of Chomsky.
It's a thunderous, prophetic critique of culture and contemporary Christianity, as strong as Jacques Ellul and as compelling as Shane Claiborne, though the strong Christian language might put some people off.