Holy Smoke?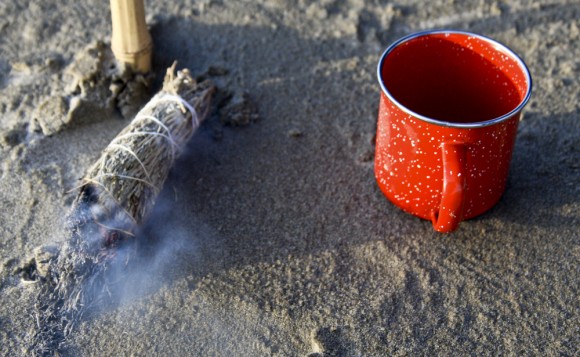 What happens when Mennonites invite a traditional Indigenous drum group to join hymn-singing choristers on the stage of a Pentecostal church for a landmark public event? 
A major last-minute snag, national media attention and some fine words from former Canadian Prime Minister Joe Clark. The drum group's smudging ritual was not cool with the Pentecostal hosts, so the Mennonites called off the whole event instead of proceeding without their Indigenous guests. 
Something that could have easily turned into a racially charged, public theological spat looks like it will lead to constructive conversation across significant lines of difference. And it turns out the Pentecostal pastor is a swell guy even if I find some of his views objectionable. 
See an excerpt of my article on the incident below or view the whole thing on the Canadian Mennonite magazine website.
MCC Manitoba stands with Buffalo Gals
Anniversary event postponed because of smudging controversy
The landmark event was intended, in part, to promote reconciliation with Canada's Indigenous Peoples. That goal will likely be achieved to a far greater extent than organizers ever imagined, but the path will be circuitous and theologically bumpy.
The 50th-anniversary celebration for Mennonite Central Committee (MCC) Manitoba was to include 1,200 guests, 300 participants, three choirs, a keynote address by former prime minister Joe Clark, and a hoped-for $100,000 in donations.
And it was to include the Buffalo Gals, an indigenous drum group based out of Winnipeg's North End Women's Centre. Their involvement was to be woven into the choral music, including as part of an original piece combining hymns and indigenous songs.
Their inclusion was to reflect the fact that "a very big part of MCC's history is relating to marginalized people," said Ron Janzen, MCC Manitoba's executive director. It would have also reflected the fact that indigenous relations was one theme of the Nov. 15 event. Clark, an honorary witness of the Truth and Reconciliation Commission, had planned to speak about indigenous matters among other topics.
But just days before the event, MCC Manitoba called it off. As reported in the local and national media, the rented venue, Immanuel Pentecostal Church in Winnipeg, would not allow the Buffalo Gals to conduct their private smudging ceremony on church property.
As Janzen openly admitted, organizers never thought to double check that the smudge would be allowed until the week of the event. A last-minute scramble to find another venue failed.
Janzen said the decision to postpone the event was very difficult in terms of complications and costs, but not difficult in terms of knowing what needed to happen. The drum group was integral both to the musical performances and the spirit of the event. Janzen said consensus emerged quickly among the participants, including Clark, that the show could not go on without the Buffalo Gals.
MCC Manitoba has gone out of its way to take responsibility for the kerfuffle and to avoid pointing fingers at the church. Janzen attended Immanuel Pentecostal the following Sunday and was introduced to warm applause. He is hoping to sit down with church pastors in due course.
In an e-mail to Canadian Mennonite, Pastor Scott Bullerwell said he has agreed to such a meeting, and his church bears "no ill feelings" toward MCC.
Jaki Skye, who oversees the drum group for North End Women's Centre and participates in the group, said, "We hold no ill will toward the Pentecostal church." A member of the group is willing to meet with representatives of the church to make things right.
The incident raises questions:
Are smudging and Christianity compatible?
How do we Christians deal with the impulse, or imperative, within Christianity that says "we are right, others are wrong, and those others should be more like us?"
How do we contribute to healing the brutal scars of Indian Residential Schools and address the legacy of marginalization faced by Canada's Indigenous Peoples?
Bullerwell said, "Christianity and native spirituality are incompatible," as a number of Christian indigenous people have "solidly affirmed" recently. Many Mennonites would agree. Some would say practices like smudging and drumming are not of God and don't belong anywhere near a church. 
MCC organizers see it differently.
See the rest of this article at Canadian Mennonite.
Will Braun lives with his family on a small farm south of Morden, Manitoba. He does research and advocacy on energy and Indigenous issues, in addition to writing for Canadian Mennonite magazine. Braun is a former Geez editor.