Geez Editor Takes on Dual Role at Kirkridge Retreat and Study Center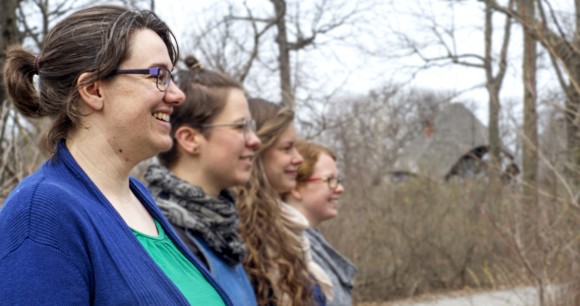 Dear beloved Geez community,
I write to share some personal news of transition, knowing full well that all personal news has communal and political ramifications. This August, I am stepping into the position of Executive Director at Kirkridge Retreat and Study Center. It is a beautiful retreat space resting on Kittatinny Ridge in Northeast Pennsylvania, which overlooks the Delaware Valley and connects with the Appalachian Trail. It is Lenape land. Kirkridge has a long history of movement work and radical hospitality.
But I want to be completely clear – I am not going anywhere. Although I will be standing in a different watershed, I will continue to work as the editor of Geez, gathering stories and writing some of my own. I love being a part of this lovely and mischievous community. Lately, I find myself lying awake at night dreaming about the ways Kirkridge and Geez can conspire together.
This move from Detroit, Michigan is a change I do not take lightly. I have lived my whole life here. The streets of this city have formed my political and theological awareness. My neighbours have taught me what it means to love and be loved. This block has instilled in me the power of community and joy in the midst of crisis. I love our yard filled with cherry trees, grape vines, honey bees, and some spunky chickens. My kids have eaten the same dirt I did as a kid and have smelled the same lilac bushes. Detroit has been and will always be my greatest teacher when it comes to struggle, imagination, and beloved community. I love this place. Tenderly pulling up these roots will be one of the hardest things I will ever do.
Yet, I feel the spirit smacking me in the face, crying out for me to come lay my body down on this mountain. Retreat centres have long called to me as a place where many of my vocational longings collide. And Kirkridge holds pieces of my own history and heart. Kirkridge is a place I wandered as a child. Lucia and I used to craft in the corners and sneak hot chocolate as direct actions were being born and theological poetry was being sung. Later this summer, I will show up with my heart open and my pen and paper in hand, ready to fall in love with the stones and the creatures. I am hungry to learn the stories of those who have found this mountain a holy place.
As I dream into the next part of Kirkridge's story, I imagine a place for theological imagination, movement conspiracies, watershed discipleship, and radical rest. I hope it will be a place for writers, artists, and activists to be nourished and to create.
Geez will be a big part of this work. At Geez, our work dwells in stories. It is such a gift to gather them and put them on paper for all of us to hold in our hands, near and far, as a tangible reality of hope and justice. But we also believe in the power of embodied stories. We hear a hunger in our community to gather. To break bread. To plan holy foolishness. To tend to our souls in these soul crushing times. Kirkridge can become a place for such delicious festivities. I hope it will be a place for you to come and be loved by the stones, the herons, the apple trees, and the wind that also rests on this mountain.
Much more to come soon.
With so much love and gratitude for this community,
Lydia Wylie-Kellermann
Editor, Geez