Electronic hitchhiker 1: Beginnings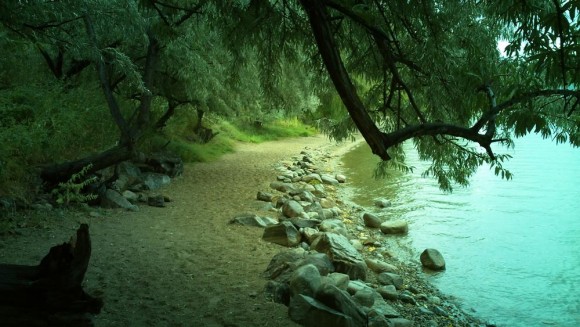 The following is a guest blog entry by David Griffin Brown, aka the Electronic Hitchhiker. He writes about his journey across Canada via ride-sharing and couch-surfing. His goal: use online social networks to open doors into stranger's homes, to make the stranger a friend. If you have an Experiment you'd like to share with Geez readers, send it to experiments@geezmagazine.org .
My first ride-share got me clear across BC.  
There were many options on the Vancouver Craigslist board. Kathy's rideshare ad seemed like the least sketchy option. I couldn't find her on Facebook, but her email address marked her as an SFU alumna. We traded information over the few days I was in Vancouver. She was in town getting new glasses, seeing some friends, and celebrating her birthday.
She was offering a ride as far as the East Kootenays, and she was open as to the route. She said two Brit girls might be joining us, which would bring the cost down to $30 apiece. Otherwise $60 if they didn't show, since her gas bill would be $120. The day before we left, she said the other passengers hadn't been in touch.
Kathy: a middle-aged hippie with pigtail dreads interwoven with tinsel and beads. She wore a black blouse and skirt, black boots and knee-high socks, topped off with a lime green hat. If you looked close, you could see her age — 45 as it turned out. She had the beginnings of jowls, wisps of grey at the temple. But if you only glanced, you could see the younger echoes of her past.
Since I was open as to our destination and timing, Kathy called her friend's daughter to ask if we could crash at her house in Kelowna. The daughter wasn't receptive, so we set out for the hostel in Penticton instead.
From Penticton, we set out for Sparwood. On the way, we had great conversations and a few heated disagreements. We stopped in at the Canuck's training camp. We took a detour through wine country.
We sailed over the last mountain pass into an abyss of charcoal sky, glittering snow and pitch mountain lips yawning over the rush of forest. The hostel in Fernie wasn't an option; we'd arrived far too late.  Kathy told me not to worry and invited me to crash at her apartment. Sparwood came up dark and quiet. Rain devoured the Earth.
Kathy led me into her cluttered apartment and set me up on the couch. She gave me towels for the morning and keys so I could come and go. I thanked her, said goodnight, and slept instantly.
When I awoke, Kathy was gone to work, as was her roommate. She left me a note inviting me to make myself at home and make breakfast. She said she would be home at 5:30 and we could tour the countryside.
I wrote a note in response to thank her for the ride, for her conversation and insight, and for her hospitality. I showered, looked up the transit schedule for a ride back to Fernie, and strapped into my monster backpack. As I double-checked that I had all my gear, Kathy's phone rang. After the fourth ring her archaic answering machine spurred to life. I stood on her threshold listening to the recorded message.
"You have reached Kathy Brenson. Sorry I can't come to the phone right now. Before you record a message, let me leave you with this thought: Life isn't about waiting for the storm to pass; it's about dancing in the rain."
Stay tuned for the next installment of the Electronic Hitchhiker journey across Canada.