Day 2: My life is actually impossible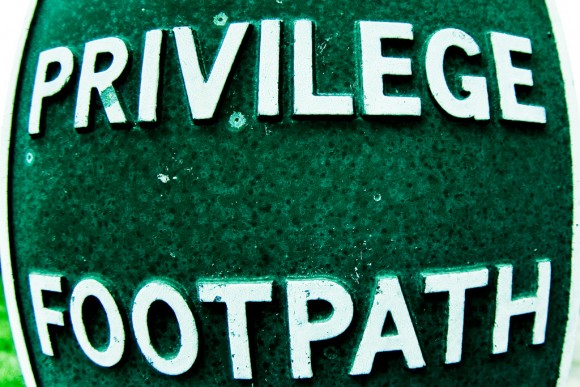 Public Privilege Challenge Day 2: Resisting my able-bodied privilege
I clearly should have thought this whole through through more carefully. For two reasons:
1) I chose to resist my able-bodied privilege on the same day as my team soccer game.
2) I realize I have no idea what it means to resist privilege.
For real. What does it mean to resist privilege? Actively? At first this concept seemed obvious but now I am struggling with it. All of my thoughts and actions on this so far has seemed prefunctory and trite. Yesterday the only real way I could find to resist my privilege was to refuse a cup of coffee. Privilege hero I am not.
This is an important aspect of this challenge, and as such needs some definition – from here on in I will take it to mean that I will (try to) not participate in any activities that would give my personal characteristics an unfair advantage.
This definition has made today's experiement both an abject failure and true success, both for the same reason: I know now that my life, as I live it right now, would not be able to be lived, if I did not hold my able-bodied privilege.
For starters, I wouldn't even be able to LEAVE MY APARTMENT. I live in an elevator-less basement suite. If my body was not able I would not be able to leave to go to my current job. To truly resist this privilege would be to either not go to work, or to call my neighbors to carry up my stairs. I chose the first option, acknowledged my privilege, and trudged the the stairs out of my apartment.
On my way to work I stood at the bus stop, fully ready to not board the bus unless it was handi-accessible. Both of my busses today were. Kudos to Winnipeg, which apparantly is known for their accessible busses, for enabling me to arrive at my work on time.
I can't give many specifics regarding my time at work, as I work with a sensitive client base. But I can list off all of the things I did today which relied on my able-bodied-ness;
- I stored some stuff in the non-accessible basement
- I literally climbed over a huge load of boxes (I bet you're wondering where I work now, hey?)
- I lifted large jars of food
- I carried large objects down the hallway
- I loaded the photocopier (I also swore at it and almost kicked it. Does that count?)
- I used a mouse and keyboard, as my work computer does not have voice command capabilities
- I used a regular touchpad telephone
If I weren't able-bodied my worklife would look very very very different; I would likely not be able to do my current job.
Walking home, I tried to resist my able-bodied privilege by refusing the temptation to jaywalk or to cut corners outside of paved sidewalks and ramps; this is trickier than it sounds and requires a lot of mindfulness. Plus, considering the sidewalk held a good amount of wintery winnipeg snow cover, about two blocks from home I realized that I shouldn't even be walking on the sidewalks as it would be difficult for anybody with mobility aids. The street looked way more manueverable, yet also way more dangerous. I pondered my options, and decided to walk my last two blocks home on the snow-cleared street where cars zoomed by me in uncomfortably close proximity. I felt both vulnerable and a sense of weird social shame for taking human space on a vehicle thoroughfare. I avoided eye contact with drivers and felt very much in the way.
I was glad to sit at home, and now am being ready to go to poorly-scheduled soccer game. Still not sure how to tackle that one.
I feel somewhat discouraged, silly, close to failing, and like I just ate a big slice of humble pie.
And then I remember that it's not actually about me.
Bre
Read Day 3 Acknowledging my white privilege
Read Day 1 Resisting my privilege of wealth: I am the 9%
Why am I doing this? Click here to find out.