Churches cautious on Northern Gateway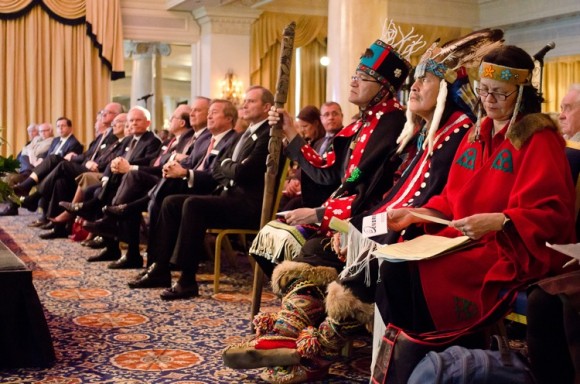 In a piece I wrote recently for Canadian Mennonite magazine, I report on my conversations with Aboriginal people in the Northern Gateway corridor, Enbridge spokesman Todd Nogier and church representatives.
Is Canada's ethical climate changing?:
Churches cautious about pipeline debate
Canadian Mennonite
As the battle over the proposed Northern Gateway Pipeline plays out, key questions about the moral make-up of Canada will be answered: questions about the balance between economic growth and environmental protection, and questions of whether large companies can bulldoze through unceded Aboriginal territory without local consent.
The answers to these questions—and it is not at all clear yet what those answers might be—will significantly shape the ethical course of our nation.
If built, the $5.6-billion Northern Gateway Pipeline would carry 525,000 barrels a day of bitumen from the Alberta oil sands through the territory of dozens of First Nations to the B.C. coast where it would be loaded onto supertankers headed mostly for Asia.
The 1,177-kilometre, 36-inch diameter pipeline would be accompanied by a second smaller line that would carry condensate—used to thin oil for transport—in the opposite direction. The lines would be buried a metre deep in a 25-metre wide right-of-way.
Calgary-based Enbridge, Canada's largest transporter of crude oil, is the lead proponent on the project.
Churches are slowly and cautiously entering the Northern Gateway debate. Katy Quinn of Kairos—a social justice organization representing seven of Canada's largest denominations—says the issue is a "game changer" in terms of its potentially profound implications for ecological sustainability and indigenous rights. She says the issue will be a "major focus" for Kairos, though it's not clear just what that involvement will look like.
As for other church involvement, Quinn says churches in general seem to be keeping a "fairly low profile" on the issue despite the high stakes.
Read the full article here.