4th Advent—wonder, Rediscovery of Jesus as marginal and weak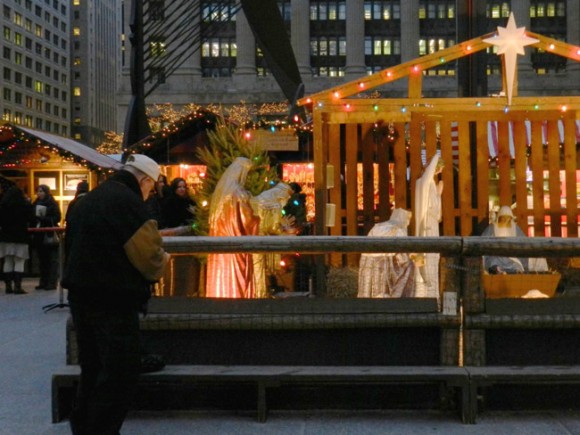 Series outline
1st Advent — Bleakness
2nd Advent — Openness
3rd Advent — Anticipation
4th Advent — Wonder
Introduction
What follows is the final of four reflections on Advent, which is typically the four Sundays before Christmas. In this series I hope to document my experience of disillusionment with Christian teachings and eventual return to faith that is knowingly naive. My faith is now full of paradoxes: I'm jaded but not cynical, I'm trusting yet suspicious, I'm innocent but also complicit. From the vantage point of one who is awakening to his place of comfort and privilege in a world of suffering and complexity, the paradox becomes a tenuous salvation. – Aiden Enns
Fourth Advent Reflection: Wonder

After capitalist Christianity, I rediscover Jesus as weak and communal
The wonder of Christmas has changed. It's no longer the magic of a child born in low estate that becomes a divine king that vanquishes evildoers in the name of love. The mystery of that story has waned. The hero story, which dominates Hollywood and burdens the minds of men in America, has been perverted beyond redemption. The saviour story, which has fuelled colonization, sustained patriarchy, and clogged the distribution of global wealth, has been co-opted by the perpetrators of misery.
Yet the wonder of Christmas is still with us.
It's not what I expect. I grew up with a dominator's worldview, hence the wonder of Christmas is necessarily counter-intuitive for me. The wonder of Christmas is found in weakness, not in power.
My faith development took a hit when I abandoned objective truths such as Jesus is Lord. I still believe there is truth, but it shifts. Truth retracts and expands as we discover problems with what we praise as truth. This obliges me to withdraw my allegiance to old (but still alive) truths such as male superiority, heterosexism, and the multiple underpinnings of oppression.
How do I know this? I used to trust people in power to tell me the truth. Now I'm deeply suspicious that the truth they promote reinforces their power over others. I turn my ear to wisdom from the margins, from those who suffer under those in power: outcasts, orphans, refugees, women, people of colour, gender queer folks, and our animal kin.
This organic understanding of a truth that liberates puts in jeopardy the traditional truth revealed at Christmas. For example, if truth is socially constructed, then isn't the central claim of the Christmas story dismissed? That is, wasn't Jesus God's "only begotten son" (John 3:16) and therefore the saviour of the world?
I find answers to these questions in the phrase that follows, "That whosoever believeth in him should not perish but have everlasting life"? That is, the truth depends primarily upon the believing community.
When the magi trusted the signs in the night sky, when the shepherds heeded angel visitations, when Mary acknowledged her womb could carry the Christ child, and when Joseph opened himself to an unconventional birth, they became a community receptive to the miracle of Christmas, the birth of the Messiah.
This is a lesser, but more reliable and liberating truth. Saving knowledge requires perception, articulation, trust, and camaraderie. We can prepare for liberation by sharpening our perception and waiting with a spirit of readiness. The Christ is born into an expectant community.
This is a weak truth, but powerful. Its source is beyond us, but it is not manifest without us. The good news is that there is hope, light, love, peace, joy, kindness, solidarity, justice, liberation from bondage, sharing of resources with those in need, lowering of the mighty, raising of the lowly.
As a Christian, I believe that in the tiny package of the Christ child, this hope and light is born anew. That, for me, is the wonder of Christmas: weakness.
As a post-techno-crazed-capitalist-civilization person, I'm born again with a second naivete that a community of believers can be the receptacle of a gospel of love and justice birthed at the margins.
Aiden Enns is the editor of Geez magazine in Winnipeg, Manitoba. Next week he writes about the seduction and rewards of anticipation. He invites your comments and reflections, editor[at]geezmagazine[dot]org.
Photo credit: John W. Iwanski, "Ye faithful has come," Chicago, Illinois, December 13, 2011. flickr.com
Photographer's comments: 99 times out of 100, people stand like this because they're texting something like 'buy sum beer @ stor plz' to someone. I'm not a member of any religion myself, but I do love Christmas time, and I was touched to see this old guy gently set down his bag and bow his head before the Nativity scene in Daley Plaza."