I'm Dreaming of a Geez Christmas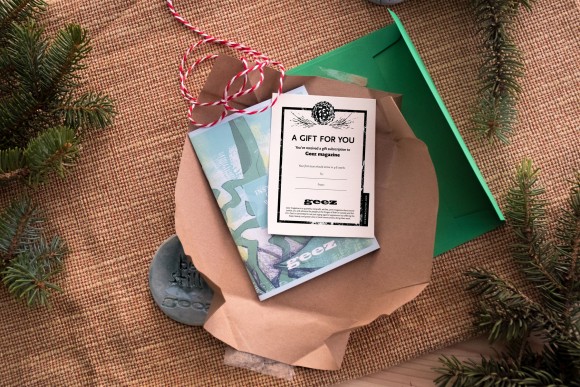 Geez Holiday Gift Guide
Spread tidings of rabble-rousing joy this Christmas with the gift of Geez. Our merch store is stocked with goodies to bring comfort and curiosity to the treasured folks in your life. Here are some of our favourites.
Gift Wrapped Subscriptions – $39
In these times of isolation, we find community in shared readership. For gift subscription orders that come in before December 24, we will wrap an "Instructions of Being with Trees" booklet and mail it to your gift recipient with a note about the subscription from you.
Poster: Instructions of Being with Trees – $20
For the folks that inspire you to get outdoors, or perhaps need a little nudge. This poetry and poster combo brightens up any space for the darkened nights ahead. (New Price: 50% Reduction)
Holy Mischief T-Shirt – $10
It's no secret your pal is getting up to some holy horseplay. Time to name and proclaim that with this Holy Mischief t-shirt. (New Price: 50% Reduction)
Mourn & Organize Pin – $3
We've done our share of mourning this year. Pass on this comforting reminder that grief and resistance go hand-in-hand – that we're on this path together.
From the Geez magazine rack
Geez New Parent Set – $40
Entering parenthood in a pandemic can feel overwhelming. Show your support to new parents from afar with this set including four Geez issues and a gift that will never go out of season – the Rebels & Saints perpetual calendar for kids.
Geez Simple Living Set – $40
For some life has felt simpler this year, but for many it is filled with new complexities. The Simple Living Set is filled with stories of simplicity, connection, and alternative ways of living for those looking for grounding and inspiration in these times.
Geez Media Set – $30
For your relative who's sworn off the media, critique the capitalist narrative from a different angle. The Media Set includes four issues that will get their imagination swirling into the world of the arts.
Sleigh your giving list with these issues
Geez 17: The Work Issue – $5
For your boss who made you come into the office during lockdown
Geez 30: The Redoing Schooling Issue – $8
For your homeschooling veteran and first-timer friends
Geez 34: The Life Offline issue – $8
For your sibling looking for freedom from a smartphone addiction
Geez 51: Wealth Redistribution – $10
For your cousin whose bank accounts runneth over
Geez 53: Mothering – $10
For your neighbour entering parenthood apart from their family
Geez 56: Disobedience – $12
For your colleague who posted a picture from their first protest
Want to give Geez a gift this Christmas?
Deck the Halls with monthly donors
Anyone who becomes a new monthly donor before December 24 will receive a phone call from some cheery Geez staff members singing a classic Christmas carol – or if you prefer, we can pass that singing telegram to a friend of your choice.
Still haven't found what you're looking for? Visit our Store to browse more merch and back issues.
To receive your gifts in time for the holidays, place your orders by Monday, December 7 for delivery to Canada and Sunday, December 13 within the United States.