Geez Newsletter - June 2016
Dear readers,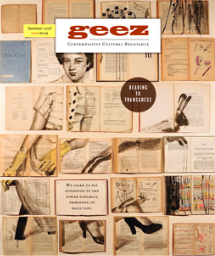 We're excited to announce that we'll be shipping Geez 42, "Reading to Transgress," to subscribers and newsstands in the next few days.
We hope this issue will give you a chance to pause and spend some time reading critically in the coming weeks of warm weather. Ideally, this issue will inspire you to engage with the world and learn to become more aware of the cultural assumptions surrounding each of us.
Looking ahead, we're hard at work on upcoming issues on collectivity (Fall, 2016) and incarceration (Winter, 2016). I'm pleased to report this latter issue will be guest edited by John K. Samson and Miriam Meinders.
Aside from magazine production, here are some other recent highlights from Geez headquarters:
Judges say we're 'excellent'
This past month Geez won awards in four categories from the Canadian Church Press, including first place for general excellence in the "magazine" category. Check out the award details on our blog here.
Geez-friendly festivals
We're working on getting issues of Geez to each of these festivals. If you find yourself in the area, stop by, and if you see us, say hi!
Cahoots! Festival
June 9-12, Ridgetown, Ontario
Cahoots is "a festival of faith, justice, and diy," focused on working for justice as Christians in an unjust world.
Wild Goose Festival
July 7-10, Hot Springs, North Carolina
The Wild Goose community explores spirituality, social justice, music, and the arts.
Skylight Festival
July 29-31, Paris, Ontario
Modelled after the U.K.'s Greenbelt Christian Arts Festival, Skylight offers music, drama, art, film, and speakers.
Festival of Faith and Writing
Geez workers Aiden and Tim drove down to the Festival of Faith and Writing in Grand Rapids, Michigan, last month. During the festival they ran a booth, gave away back issues, got some new subscribers, met colleagues and contributors, and Aiden participated in a panel on prophetic writing.
"Listening to people pay attention to words miraculously lifts the spirit. This seems irrelevant in this age of such injustice, but it's also fortifying," said Aiden.
Aiden and Tim both acknowledged that Geez felt somewhat out of place at the festival, as our publication is more social-justice oriented and questioning of Christianity than many attendees.
"In terms of privilege and diversity, our presence felt redundant because the majority of the attendees were also white and wealthy – at least wealthy enough to attend this conference. But in terms of combating privilege, it encouraged us to keep going," said Aiden.
It was a supportive place that afforded Geez workers the opportunity to meet like-minded people and hear praise and criticism of the magazine from others.
Editorial assistants this summer
We have three new interns in the office for the summer: Owen Perkins and Emily Hamm, from Canadian Mennonite University, and Allison Zacharias, from the University of Winnipeg. They are writing blog posts, stuffing envelopes, assigning articles, creating study guides, and working on circulation development. The workers have been enjoying their presence, even with the never-ending task of finding ways to fit everyone in the office.
Thanks for your support
As always, we appreciate all your feedback and support! If you haven't already, please visit Geezmagazine.org/subscribe to subscribe or renew today. If you subscribe or renew in the next few days, we'll be sure to include your copy in the first shipment of our new issue.
We're a non-profit, ad-free, small-scale organization that needs your support to pay our contributors and distribute the magazine. Watch for our June fundraising campaign and read more about how and why you should support Geez. Or, you can make a one-time donation or support us monthly here.
On behalf of the Geez team,
Emily Hamm
Editorial Assistant