White Folks Run Away to Create a Circus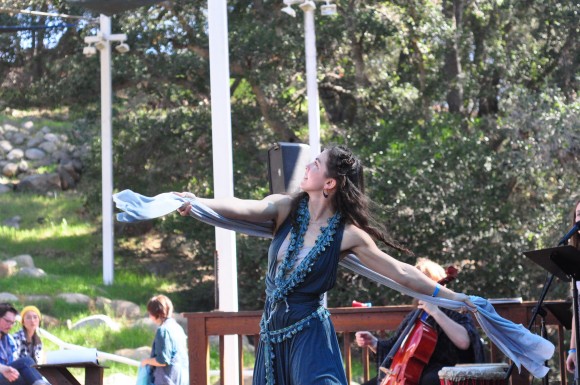 Carnival evokes upside-down time: when the laws of propriety, restraint, and hierarchy that govern civilized society are turned topsy-turvy – think of Mardi Gras, descended from the carnival traditions of the middle ages in Europe.
This is the spirit animating Carnival de Resistance, a travelling arts carnival, eco-village demonstration project, and school for cultural transformation. They use a veggie-oil bus, bicycle-powered microphones, solar ovens, and composting toilets. They engage their audiences with a highly theatrical sense of play in the service of reconnecting with the earth, learning and practicing non-dominating ways of being.
Their funding – a combination of sponsorship, $20,900 from groups like CPT and Presbyterian Hunger Program and $11,654 from an Indiegogo crowd funding campaign – enabled them to put on two residencies in Virginia in September 2013 and participate in the Wild Goose Festival in June 2014, where a few Geez folks saw them in action.
Earth oriented
Tim Runtz appreciated their earth-oriented theology and "really good music." Chantel Runtz was impressed with their costumes and huge paper masks in their performances, but found the people "over-the-top theatrical." Aiden Enns, on the other hand, was inspired by their off-stage weirdness: "Each time a train rumbled by, carnies howled like dogs. To see a woman leader throw her head back and bray at the locomotive was powerful in a way that defies intelligence. It was a good kind of feral. I even screamed a bit. And for a moment, I felt alive and profoundly hopeful."
Perusing their beautifully curated website, Carnival appears to be a sort of occasional Occupy-inspired Circus, which is indeed some kind of wonderful. But there are a lot of pictures and bios of white people in dreadlocks, who seem to have joyfully discovered that embracing the gift economy means they can travel around the country, if not around the world, just doing their thing.
'White folks recovery project'
I was relieved to find a blog entry from Sarah Thompson, a woman of colour, about her experience with Carnival in September 2013: "I was clear that the Carnival de Resistance in Virginia was what we later dubbed a 'white folks recovery project,' and that clarified my expectations."
When I asked her to expand on this, Thompson wrote "[Carnival] organizers were honest about who they were, the white privilege they often carried, the specific perspective they came from, and the brokenness they felt because of violence in their relationships with land, other peoples, and God."
She noted that in order to properly recover from that brokenness "white folks in the Americas need people of colour… They need to be in full conversation [with] our narratives and ideas, our bodies and presence, our life-rhythms and songs. Many times, in an attempt to become whole these things are taken or appropriated without attention to the power dynamics."
Name things
Thompson was invited to Virginia with Carnival in part to pay attention to those dynamics. The people of colour involved were "invited to name when things felt damaging or uncomfortable as a result of personal, cultural, or institutional racism. This ability was considered a skill just like many of the other artistic skills needed to produce a theatrical event in the context of intentional community life."
Thompson concluded: "[Carnival] was powerful because we didn't just talk about things and then continue with 'business as usual.' We sang, yelled, built, deconstructed, biked, painted, massaged, cried, and acted our way out of 'business as usual.' "
Perhaps more of us should join.
Miriam Meinders is a contributing editor for Geez magazine.