We Give Thanks for this Season of Seeds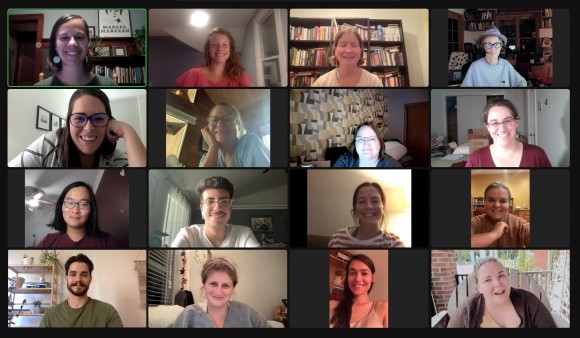 After 3 months of powerful growth, cultivating, and seed spreading, the 2022 Geez Dandelion Seed program has come to a close. We at Geez have learned so much from these prophetic, provocative, playful spirits. We are grateful for their love and labour in their communities. At the last Monday evening meeting, we reflected on our time together and Lydia wove together this prayer.
Dandelion Seed Closing Prayer
Oh spirit
Who is known and loved by many names,
Who moves in the intersectionality of
Story and craft and poetry,
Who rests in the tears and the mess and the wrestling.
And dwells among us kindred spirits.
We give thanks for this season of seeds,
For holy fools and singing and fires and pie,
For our own watersheds and the wider water ways that connect us all.
We delight in the playful trust
That when seeds are carried by creature or by the wind
New life grows.
Let us keep watering confidence and courage.
Loving one another through sacred deconstruction.
Embrace the childlike joy of each unpractical cut.
Seeds have been placed in the dark soil
And roots have begun.
We give thanks.
Perhaps more than anything in the small seeds
Hold hope.
Embrace the sobbing, globby, sticky mess,
For in Georgia's words,
Light will find you.
May each of you, Geez Dandelion Seeds,
Know how loved you are.
Remember how deeply you belong to this sacred community,
Tapped into this root network.
Like every dandelion seed before,
May this end,
Be only the beginning.
Amen.