Summoning Advent Stillness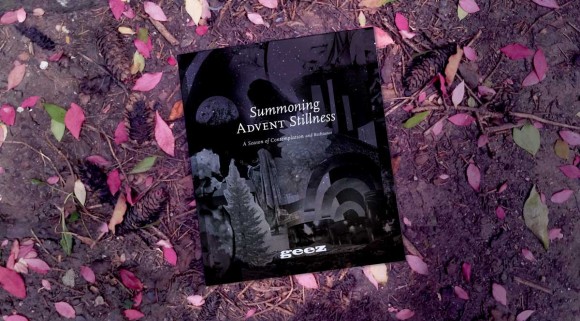 While fires continue to rage in our forests and our streets, it is time to start looking towards that season when we slow our bodies down, when we welcome in the darkness, when a single flame is enough. While the work of resistance never ceases, Advent is the liturgical season where we find more time for the quiet, waiting hours to prepare our hearts. Prepare our lives for the transformative power of story and its ability to turn the powers that be upside down. It is time.
This year, Geez has put together a daily Advent reflection book guided by many of our regular contributors. We are pleased to share this daily, contemplative practice with our communities around North America.
For each day of Advent, you will find a written reflection and original art piece.
We will mail the books out early November in time for the season. So gather your church communities, your prayer circles, your coworkers, or your cat, and get your orders in now. Order by November 10; books are $15.
Order your copy of Summoning Advent Stillness.
"I think of all the gray skies that my grandparents and great-grandparents and great-great-grandparents walked under. Ordinary days – each one a treasure. I think of my mother – defiantly in love with unpopular weather. She took joy-filled dreary walks, invited us out into the biting cold laugh-ing, marched into stormy waters for a swim even as lightning cracked.I will never have another quiet, sobering Advent with my mother – but if I slow down enough to cry, I can feel her present – bidding me outdoors to sing with the wind."
- Lucia Wylie-Eggert, "To Look with Beauty"