Advent Book – Songs for the Shadows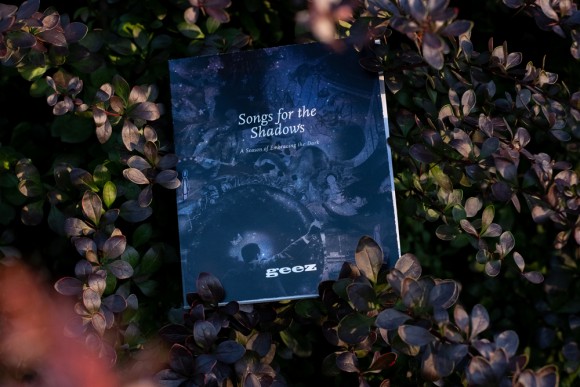 This time of year, we delight in the fall Equinox. With each coming day, the nights will grow longer and the days shorter. It is the season when we give ourselves to the teachings of the darkness. We move slower. We listen more deeply to our sense of smell and listen to sounds. The air grows cooler and animals begin to prepare for long sleeps.
Our culture would rather us just keep the light on and the noise machines playing. Keep buying. Keep moving. Keep producing. But may we instead listen to the moon and the stars and the beautiful darkness calling to us a different rhythm – one that embraces the darkness with our very souls.
For the second year in a row, Geez has put together a daily Advent reflection book guided by many of our regular writers and artists. We are pleased to share this daily, contemplative practice with our communities around North America.
We will mail the books November 1 in time to reach you by Advent. So, gather your church communities, your prayer circles, your coworkers, or your cat, and get your orders in now. Last year we sold out, so we have ordered more copies, but do order soon! Orders by November 1; books are $17.
Order your copy of Songs for the Shadows.
"It was the darkness that first invited me in. I learned to love the movement of the seasons, the cycles of life, by wading into the darkness. She offered her hand and an abyss in which to sink, a chaos to surrender to. She taught me to rest, made room for my uncertainty.
It was there in the darkness that I made space for my grief. Burrowing deep into the earth, I made a home for myself with the roots. She nurtured my soul, weary from years of rushing when the seasons called me to wait. I fed on the stories of leaves, long ago turned to dirt. She silenced the voices of productivity and performance. Cooed me to sleep."
- by Kimmothy Cole, A Home for Myself