Sneak a Peek of Geez's Next Issue – Geez 69: The Children Will Prophesy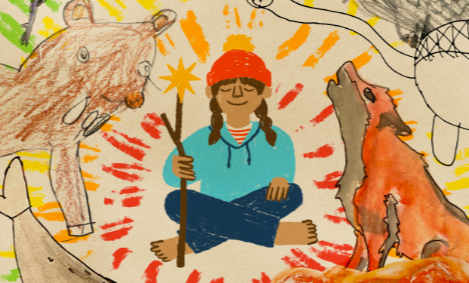 Geez 69: The Children Will Prophesy
"It's okay to be scared. It's okay to be sad. It's okay to not know what to do. Remember, sweet child, you are not alone. Remember the earth, your Mother, who has held you every moment of your life. Remember her many creatures, your kin, who accompany you on the journey. You who are alive today are not the first to face this. You won't be the last. Breathe in deep . . . Breathe out slow . . . Savour the seasons that come to you . . . Don't take yourself too seriously . . . Stick together . . . And keep following the Spirit – who also goes by the name of Joy. I'm here with you, we're here with you, and we will walk together towards whatever is to come."

– Kateri Boucher, "It's Not All Bad News from the Future," Geez 69: The Children Will Prophesy




TITLES TO LOOK FORWARD TO:
Sunglasses at the White House by Frida Berrigan
A Circle of Repair: Child to Older and Child Again by Susan Raffo
What Adults Get Wrong About Gun Violence by Jaysen (Miles) Gomez
Drop Out, Turn On, Tune In: A Solarpunk-Themed Short Story, Based in Kingston, Ontario but in the Future by Griffin Wicke, illustrated by Jasper Wicke
Art by Dan Trabue
Subscribe by Sunday, June 11 to guarantee you receive this issue in your mailbox!
Remember: All subscriptions are on a sliding scale. Subscribe or renew today.
| | |
| --- | --- |
| PARENT SOLIDARITY It is challenging, gentle, creative work to raise a rad kid. Thankfully we know we're in it together. Receive a copy of Geez 53: Mothering when you order a recurring subscription at the Rooted Resistor level or above by June 11. Just write "MOTHER MAY I" in the order comment box. | |