Shop no more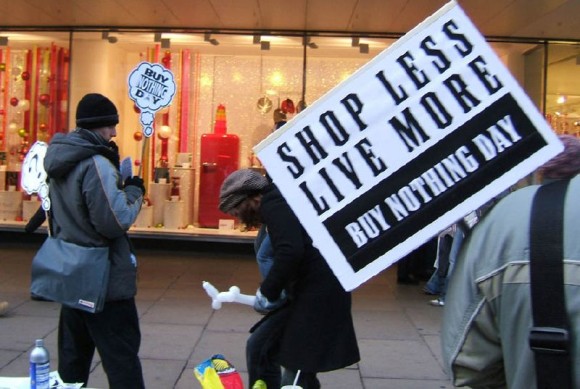 The annual peak of consumerism is just around the corner – Black Friday. Shop till you drop, max out all your credit cards and enjoy the spirit of Christmas. Forget about road rage, we now have consumer rage. People are so intoxicated with the desire for stuff that they actual are lashing out at fellow shoppers and retail workers that somehow prevent them from having what they want in the exact way that they want it.
I worked in a retail store for eight months and I tell you, I have never been yelled at so much and felt so degraded in my life – and I am a nice person! Usually people don't scream at nice people.
So what shall we do? Will we shop till our feet are purple and our credit cards worn thin? No! Will our stack of presents this Christmas be taller than our Christmas tree? No! Will we still be paying back our shopping debt a year from now? No!
I say, now is the time to stop shopping!
Okay, now that that speech is over with…Buy Nothing Day is on November 27th and you can participate by not shopping. Promoted by Adbusters 20 years ago, Buy Nothing Day challenges our consumer culture to put their money or they line of credit back in their pockets. You can find out more about this day at https://www.adbusters.org/campaigns/bnd
Rev Billy also gives a five day plan for buy nothing day that you might be interested in trying. If you do give this a try, let us know and tell us about your experience.
Sure we still need to do some shopping but we can at least do it responsibly. Here is a website where you can learn about the brands out there, which ones are honorable and what brands you should avoid.