Request from Zondervan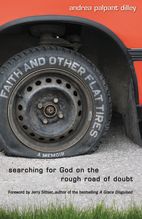 Andrea Palpant Dilley, who wrote a wonderful piece for Geez (which was reprinted by Utne), is soon releasing her first book, Faith and Other Flat Tires. Her publisher is Zondervan. Zondervan asked Aiden Enns (Geez editor) and myself to write back-cover endorsements for the book.
I appreciated working with Andrea on the piece she did for Geez (I was editor at the time) and would like to help her out. But, since I have publicly stated my opposition to the fact that Zondervan is owned by Rupert Murdoch's NewsCorp, and since I have publicly called on readers, writers and retailers to withdraw participation in anything having to do with Mr. Murdoch's tycoonery, I feel I cannot play along in any way with Zondervan's endeavours.
I did however, enjoy the irony of their request, which seemed particularly odd given the fact that my critique of their connection to Murdoch received considerable attention.
Aiden and I both declined the request. However, in support of Andrea, and because I like to play in the gray, I will provide a brief profile of her book.
Faith and Other Flat Tires is Andrea's story of faith, doubt and quest. At 21, she took a butter knife, walked out to her car and stripped the Christian fish decal off the bumper. The faith of her Quaker missionary upbringing was waning. Two years later, she left the church altogether.
Like so many of the rest of us, she entered a phase of big questions, a phase of confusion. "Disbelief took up intermittent rent in the empty space of my heart," she writes. And like many of the rest of us, she eventually found her way back to a sort of postmodern-ish faith. "My doubt," she writes, "came from my longing," and thus it led her back to her innate desire for God.
At a time when many people live between faith and doubt, candid accounts of this struggle – which is what Andrea offers – are bound to be of interest and value to many readers.