Flailing Feminist Every Day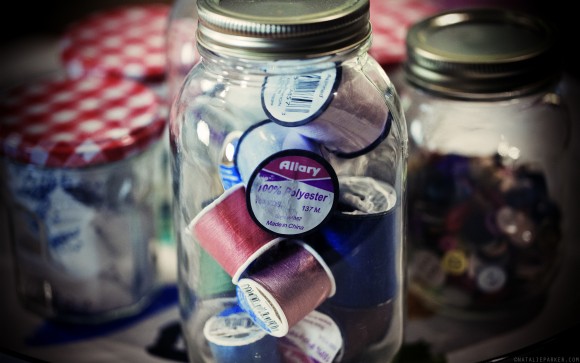 Being a feminist in the everyday is strange and messy. I find I'm looking at my own actions and words with a more critical eye, wondering if I'm being "feminist" enough. This most often comes up when I engage in what are perceived to be more traditionally "women's activities" or "women's roles."
Women being women
For example, I've been teaching myself how to sew. Properly, with a sewing machine and everything. My reasons for doing this are to learn a new skill and resist the impulses with which I grew up to just buy new stuff; while I haven't yet done anything more complicated than hemming my own jeans (which felt like a triumph in itself), I do have the goal of one day being able to make my own clothes.
But when I started, I wondered about the implications of participating in a "woman's activity" and, more specifically, how other people would perceive me. Having grown up in a conservative evangelical context, mixed with the Mennonite influences of my dad's side of the family, I was worried about being seen as just a "woman doing what a woman should."
And then I thought, Why do I even care what other people think? And, Doesn't being a feminist mean I can choose which hobbies I want to take up?
Or, every so often the topic of who does the housework came up among my friends, and I realized that I would usually say something like "my husband helps me with (insert chore here)." I was inadvertently implying that the housework was primarily my responsibility when, in fact, we both do our share. So, I promptly stopped saying "my husband helps me with the dishes" and started saying "my husband and I both do the dishes."
A new layer of awareness
I think it's a matter of perception. My best friend is a stay-at-home mom who takes care of her young kids and all of the housework (and I do mean all of it) while her husband goes off to work. She is very much a "traditional woman" in that sense. It baffles me most of the time because to me, feminism means having the freedom to not conform to gender roles so strictly. But, she chose to take on these roles because they work for this stage in her life. And she loves it. She once told me that she sometimes has to stop herself from telling other women to live this way because she recognizes that they also have a choice. If feminism is about women having the freedom to choose how they live their lives, then my friend is absolutely within her rights to be in the home if she wants.
I wonder if it seems like I'm afraid of being identified as a woman at all, which is certainly not the case. And, why does who cleans the house matter? Now that I've opened my eyes to the socially-prescribed notions of womanhood that have been so often perpetrated by my faith, and society in general, I'm wary of aligning myself with them. I am a woman, but being boxed in this certain set of ideals as to what that means doesn't sit well with me. I clean my house, not because it's my "job," but because I want to live in a clean house. I sew, not because sewing is something a woman does, but because it's a valuable skill to have.
So this is a mess, but I'm okay with that. I'm learning how to move in the world with a new layer of awareness.
Those of you who are more seasoned feminists: how do you come to terms with how you interact with the world and deal with unhelpful perceptions, either society-based or self-induced? Let me know in the comments or email me at kyla [at] geezmagazine [dot] org.
Kyla Neufeld is a poet and the Managing Editor at Geez. She lives in Winnipeg, Manitoba.






See Part 1 of this series here: Flailing Feminist: What the Heck am I doing?
See Part 2 of this series here: Flailing Feminist: Patriarchy Problem