Call for Pitches: Geez 72 Technology and Artificial Intelligence (AI)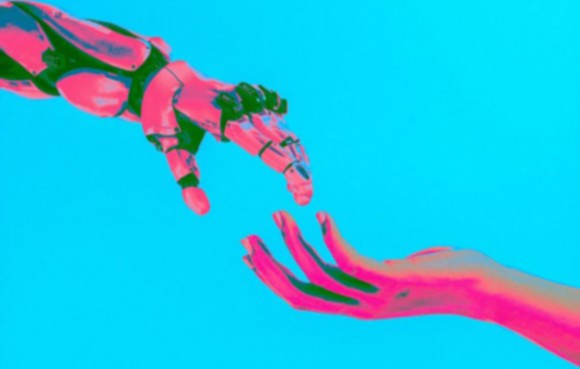 Deadline for Pitches: November 10, 2023
We've arranged a society based on science and technology, in which nobody understands anything about science and technology. And this combustible mixture of ignorance and power, sooner or later, is going to blow up in our faces. Who is running the science and technology in a democracy if the people don't know anything about it? – Carl Sagan, 1996.
Technology, especially Artificial Intelligence (AI), is rapidly changing how we live our daily lives. It's also impacting what we hear in faith spaces. ChatGPT is making it possible for people to have simulated conversations with Jesus, as well as other historical religious figures. What one person considers blasphemous can open the imagination for another. With tools such as ChatGPT becoming increasingly accessible, will technology destroy our faith . . . or complement it?
Just because technology and AI can make decisions and create content faster, the end results are not necessarily just. There is increasing evidence that the algorithms that power AI are biased based on the identities of those who build them (usually affluent white men who unjustly have access to more resources than anyone else). The use of technology and AI in everyday life brings about a number of questions, especially concerning access and power. Consider Jacques Ellul's 76 Reasonable Questions to Ask About Any Technology in how we move forward as individuals and communities when using any form of technology.
At the height of the COVID-19 pandemic, many faith communities turned to technology as a way of staying connected. As a result, many began thinking about the relationship between technology, and the potential benefits of experiencing community online, liturgy, and our embodied form. While many mourned not being able to gather in person, folks who were previously unable to attend worship services in physical buildings could participate in faith communities because of technology. How has technology impacted how we encounter the sacred?
As the world continues to move towards technological advances without full comprehension, this is also a time to reflect on how we comprehend spirit, tradition, and community.
Questions to help you imagine:
How did the push to online worship during the height of the COVID-19 pandemic impact your relationship with liturgy and your body?
Can the Divine exist in a machine? Does something deemed as intelligent, even if it's artificial, have a soul?
Can technology provide nurture and care for human beings of every facet of human identity and experience, thinking back to Ray Bradbury's short story, "I Sing The Body Electric"?
Can AI identify populations at the margins of powers and principalities to meet their greatest needs?
What happens when folks don't have access to technology and AI, creating a wider digital divide?
What is the lived experience at the intersection of disability, different abilities, embodiment, and AI?
Can technology change health diagnoses, letting people know earlier of health conditions they will encounter in the future and provide spiritual care desired/needed following diagnoses?
Ideas for Pitches (Don't limit yourself to just these!):
A fictional science fiction piece exploring humanity's future relationship with technology.
A Psalm for the multitudes held in the relationship between AI, humanity, and divinity.
Write a flash piece on your experiences with digital worship and how that related to in-person experiences.
Write about an experience where someone used AI in faith spaces.
Reframe a sacred text through a technological lens.
Notes About Submissions:
We're looking for long-form journalism, personal stories of transformation, short bursts of feelings, and nuggets of inspiration. Choose an aspect of the topic and expand with personal experience, researched wisdom, or spiritual insight. A great pitch will describe the piece, explain why it's a perfect fit for Geez, list the sources you'll consult, and state why you're the best person to write it. Please include a brief bio and where you live.
Ideally, pitches are a page or less. Note: if you send us 20 pages, we likely will not be able to read it. If you already have a completed manuscript, poem, photo, or design, feel free to submit it as well.
1. Long-form nonfiction (600, 1200, or 1800 words)
We're looking for creative nonfiction essays, investigative articles, or research-based pieces on the topic. Wisdom from other sources is welcome, but not required if you are bringing your own embodied experience.
2. Flash nonfiction (50-300 words)
These are short, personal experiences or insights. Your piece should capture a moment that illuminates a larger issue or convey a feeling familiar to us all. This is a chance to bring hope, insight, emotion, and connection to readers.
3. Photos/Illustrations
Consider the topic and send original photographs or illustrations that provoke or pacify, animate or incite. Note: artwork pitches and submissions will receive responses after written pitches. It could be 2 months before you hear back.
4. Poems
In each issue we aim to publish 2 or more poems. Please submit up to three previously unpublished poems (three pages total) as an attachment, in a Word or PDF document. For this issue, poems partially written by AI are welcome, assuming the goal is to explore the use of AI itself in writing (and specifically poetry). Please make clear in your cover letter and/or poem itself what portion, if any, of your poem(s) were written by AI. If you do not hear back from us within eight weeks of the deadline, then assume that we were unable to use your submission.
Additional Info:
Our readership is split between Canada and the US with some wider international readership as well. Please consider this in how you approach your topic.
Ideally, we will respond personally to every piece of correspondence we receive. But given the number of submissions we receive, responding is not always possible. If you do not hear back from us within four weeks of the deadline assume that we were unable to use your submission.
Contributor Honorariums:
We are a small nonprofit that currently offers very modest honorariums. Depending on the length, we usually offer between $50 and $100.
Deadline for pitches: November 10, 2023
We look forward to seeing your submissions!
Sincerely,
Tuhina Verma Rasche, associate editor, managing editor for Geez 72
Lydia Wylie-Kellermann, editor
Mashaun D. Simon, associate editor
Send pitches, manuscripts, and images to:
Geez Editors
email: stories [at] geezmagazine [dot] org
mail: Geez magazine, 1950 Trumbull, Detroit, MI 48216 USA
To join our Writers List, click HERE.