Call for Pitches: Geez 59 Principalities and Powers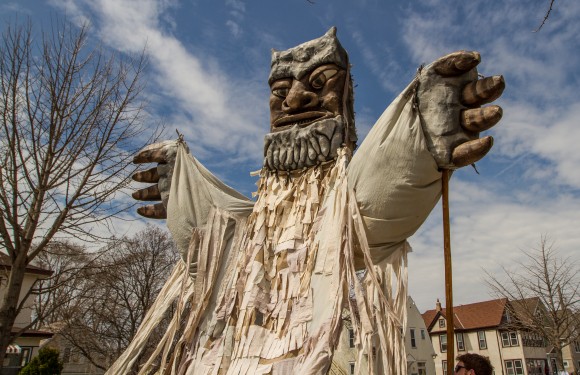 Deadline: August 10
"For we do not wrestle against flesh and blood, but against principalities, against powers, against the rulers of the darkness of this age, against spiritual hosts of wickedness in the heavenly places." – Ephesians 6:12
"To be ignorant or gullible or ingenuous about the demons, to underestimate the inherent capacities of the principalities, to fail to notice the autonomy of these powers as creatures abets their usurpation of human life and their domination of human beings." – William Stringfellow
"[Jesus] was crucified by the same principalities and powers that lynched Black people in America." – James Cone, The Cross and the Lynching Tree
We are struggling to imagine what theme readers may need when this issue lands in community hands in early January 2021. We anticipate a hard fall and winter. Ongoing spikes in cases of COVID-19 continue to expose the structural injustice inherent in our healthcare, economic, family, education, and political systems. Racialized violence and murders at the hands of police continue in our streets. And in the U.S., we will be preparing for one of the greatest acts of political power and theater that is the presidential inauguration. It is hard to imagine this will be a hopeful time. . . So what can Geez offer?
Standing in the uncertainty of the present moment, we believe it's time to turn our attention to the roots of the Biblical tradition. Just as we describe today's struggles through the language of systems, structures, and institutions, our scriptural ancestors spoke of powers and principalities, acknowledging how these more-than-human things took on a kind of creatureliness: a life, a spirit, of their own. Whether we perceive institutions as alive or not makes all the difference in the way we relate to them – and specifically, the way we might struggle against them. In a season where the powers and principalities are running rampant, our struggle with them is indeed a matter of life and death.
Prompts for Flash Pieces: Calling on Writers to Creaturize the Powers (50-300 words)
In every issue, we print short personal experiences or insights that summon emotion, hope, or connection, called flash nonfiction. For this issue, we are looking for flash pieces that focus in on one particular power or principality. Write a creative piece that makes one power come alive in it's full creatureliness – one story, moment, or painting with words. 
For example, what creature pours out of the police officer's gun? What are the whispering shadows under the church altar? What kind of puppets are running the stock market? What eyes look down upon us from surveillance cameras? What heart beats at the center of the nuclear family?
Particular powers to consider: white supremacy, nuclear weapons, war machine, colonization, law and state, police, nuclear family, healthcare, labor and economics, sports, racism, global economy, slavery, surveillance, education, church, the presidency.
Ideas and Prompts for Long-form Nonfiction:
Are the principalities and powers an old, white, male theological concept? What is the value of talking about systems of oppression through that framework? What might be gained by doing so in this particular moment? What might be lost? 
At times in the Bible, the powers are characterized by creatures like serpents, dragons, lions or beasts. Are there any creatures that you'd add? Draw or write about a principality as it shows up in one of these forms. 
As James Cone wrote, Jesus was crucified by the same principalities and powers that still exist in the United States today. How have the powers stayed the same over the past 2,000+  years? How have they traveled? How have they been passed along?
Should our struggle not be against "flesh and blood" but against the powers that be? What strategic implications does that have on the ways you do movement or activism work?
Ironically, the United States Supreme Court has literally granted some corporations the rights of "personhood." What does this have to do with powers? Have the living spirits of corporations been granted authority to rule over our country? Does it matter that they're no longer hiding, but legally allowed to work in plain sight? 
If corporations are like creatures, how do they get fed? Attention? Dollars? Labour? Time? Which ones do you feed, and how?
How do principalities and powers interact with each other? Does this relate to intersectionality?
Tell us stories of how your community has become possessed by the powers, or how you are creatively combatting the powers. Have you performed any exorcisms lately?
What does the work look like to redeem the powers? There is nothing inherently evil about the powers (ex. education or family or healthcare), but how do we redeem them so that they work in the service of life rather than death? (How would it smell, taste, sound, feel when the powers are redeemed?)
Are you interested in writing two pieces? We will send this issue to print four days after the U.S.  presidential election. The results of that election will make visible some serious realities in the movement of the powers. Write one piece for if Trump wins again and one if Biden wins. Heck, maybe we even need a third for if someone else wins! We will have them ready and place one in the final days before print.
Artists – no one can make these powers come alive better than you! Summon the powers and principalities that are running rampant through the pandemic. Make visible the powers that are underneath the inauguration stage. Paint us an exorcism that dispels the power of death over us all. 
Notes about Submissions
We're looking for long-form journalism, personal stories of transformation, short bursts of feelings, and nuggets of inspiration. Choose an aspect of the topic and expand with personal experience, researched wisdom, or spiritual insight.
A great pitch  will describe the piece, explain why it's a perfect fit for Geez, list the sources you'll consult, and state why you're the best person to write it. Please include a brief bio and where you live. 
Ideally, pitches are a page or less. Note: if you send us 20 pages, we likely will not be able to read it. If you already have a completed manuscript, poem, photo, or design, feel free to submit it as well.
1. Long-form nonfiction (600, 1200, or 1800 words)
We're looking for creative nonfiction essays, investigative articles or research-based pieces on the topic above. While a reference to your personal experience is welcome, readers need wisdom from other sources as well (interviews, books, articles, theologians, social-justice activists, academics, and moms and dads). 
2. Flash nonfiction (50-300 words)
These are short, personal experiences or insights. Your piece should capture a moment that illuminates a larger issue or convey a feeling familiar to us all. This is a chance to bring hope, insight, emotion, and connection to readers. Think of it as a snapshot with words.
3. Photos/Illustrations:
Consider the topic above and send original photographs (i.e. you took the photo) or illustrations that provoke or pacify, animate or incite. Or, if you know of a photographer or illustrator who can deliver an awesome photo essay or series of drawings and is willing to get big play in a premium little magazine for a modest honorarium, please pass this pitch along. Note: artwork pitches and submissions will be given more time, due August 15. 
4. Poems:
In each issue we aim to publish 2 or more poems, often with one poem per page. Poems may relate closely to the theme, or not. We'll look at them all.
Additional Info:
Before pitching, please read our guidelines for writers. Ideally we would like to respond personally to every piece of correspondence we receive. But given the number of submissions we receive – and having tried to respond to all – we realize it is just not possible. If you do not hear back from us within four weeks of the deadline assume that we were unable to use your submission.
Deadline for pitches: August 10, 2020
We look forward to seeing your submissions!
Sincerely,
Lydia Wylie-Kellermann, managing editor
Kateri Boucher, associate editor
Lucia Wylie-Eggert, art director
Send pitches, manuscripts, and images to: 
Geez Editors
email: stories [at] geezmagazine [dot] org
mail: Geez magazine, 1950 Trumbull, Detroit, MI 48216 USA
To join our Writers List, click HERE.
Image credit: "Mayday Parade Minneapolis," Tony Webster CC, Flickr.