Call for Pitches: Geez 57 Trees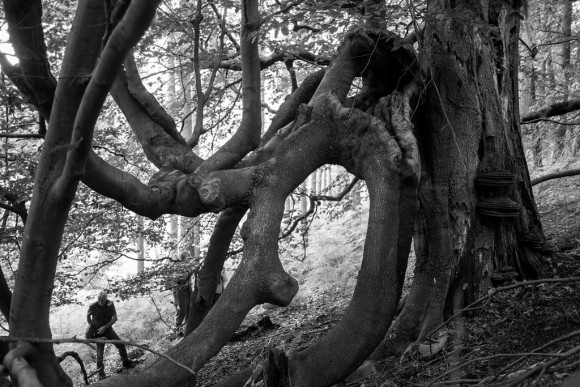 Deadline: February 10
"This is not our world with trees in it. It's a world of trees, where humans have just arrived." – Richard Powers, The Overstory
Whether we think about it or not, our lives are intertwined with the lives of trees. They are our neighbours, sources of sustenance, genetic kin (we share a quarter of our genes), and providers of our breath.
For many of us, it is among trees that we find rest, that prayer comes easily, that silence is held by roots. And yet trees are under attack – cut down for development and burned down by climate catastrophe. As trees disappear, so does our hope for survival as a species.
We cannot be a magazine that focuses on contemplative cultural resistance without looking to trees as a place of contemplation and a cry for our resistance.
What will this issue be? We have no idea. We dare to dream this issue into being without knowing how it will unfold. Help us love the trees, weep for the trees, listen to and learn from the trees, and spend our lives planting and fighting for their survival.
Let us honour these great co-conspirators, for it is with them that we breathe together.
This is a call for pitches, poems, artwork, photos, or full manuscripts (see more detail about submissions below).
Ideas, prompts, and food for imagination:
What do trees have to teach us about social movements? About cooperative living? About resilience?
How have trees played a role in your activism? Your faith community? Your theology?
What experiments are you and your community doing to protect and plant trees?
Create a list of directions for how to be with trees.
Show us how you pray beneath their branches.
Write some anti-capitalist, feminist fan-fiction about The Giving Tree.
Explore the lives of the tree planters like Wangari and tree huggers like Julia Butterfly.
Draw us the leaf details of oak, maple, and willow (– bonus points if it's the Whomping Willow).
Guide us towards weeping for the olive trees in Palestine.
Tell us about the North American chestnut tree.
Compose a eulogy written by Tolkien's Ents.
Pick a tree and photograph her branches and roots.
Reflect on lynching trees and the legacy of racial terror in the United States.
Craft a "choose your own adventure" story in the Garden of Eden.
Teach us how to tap maple trees.
Lectio Divina the cedars of Lebanon.
Share a flash fiction about the wonder and tragedy and beauty of paper.
Unpack the phrase "family tree."
Scribble a love letter to a tree you've known for a long time.
Lead us in a meditation on breathing in and out with trees.
Send us the completely unexpected and unpredictable.
Notes about submissions
We want long-form journalism, personal stories of transformation, short bursts of feelings, and nuggets of inspiration. Pick your aspect of the topic and expand with personal experience, researched wisdom, or spiritual insight.
In a great pitch, you describe the story, explain how it's a perfect fit for Geez, list the sources you'll consult, and state why you're the best person to write it. Please include a brief bio and where you live. Ideally, pitches are a page or less. Note that if you send us 20 pages, we likely will not be able to read it.
1. Longer non-fiction pieces, length: 650 or 1300 words
We're looking for creative non-fiction essays, investigative articles or research-based pieces on the topic above. While a reference to your personal experience is welcome, readers need wisdom from other sources as well (interviews, books, articles, theologians, social-justice activists, academics, and moms and dads). Pitches should be one page, touch on the wider context of your topic and name at least one other source you will be consulting. If your pitch is accepted you'll usually have three to four weeks to complete the piece.
2. Flash non-fiction, length: 50-350 words
These are short, personal experiences or insights. Your piece should capture a moment that illuminates a larger issue or convey a feeling familiar to us all. This is a chance to bring hope, insight, emotion, and connection to readers. Think of it as a snapshot with words.
3. Photos/illustrations:
Consider the topic above and send original photographs (i.e. you took the photo) or illustrations that provoke or pacify, animate or incite. Or, if you know of a photographer or illustrator who can deliver an awesome photo essay or series of drawings and is willing to get big play in a premium little magazine for a modest honorarium, please pass this pitch along.
4. Poems:
In each issue we aim to publish 2 or more poems, often with one poem per page. Poems may relate closely to the theme, or not. We'll look at them all.
Tips for pitches:
The Geez project is a discussion among people of faith seeking social justice. Our readers and writers express this through art, activism (a creative critique of those in power and the structures that keep them there, the promotion of alternative practices that subvert such powers), contemplation, and a more-grounded, interconnected approach to living.
Additional info:
Before pitching, please read our guidelines for writers. Ideally we would like to respond personally to every piece of correspondence we receive. But given the number of submissions we receive – and having tried to respond to all – we realize it is just not possible. If you do not hear back from us within four weeks of the deadline assume that we were unable to use your submission.
Deadline for pitches: February 10, 2020
We look forward to seeing what you send!
Sincerely,
Lydia Wylie-Kellermann, managing editor
Kateri Boucher, associate editor
Lucia Wylie-Eggert, art director
Send pitches, manuscripts and images to
Geez Editors,
email: stories [at] geezmagazine [dot] org
mail: Geez magazine, 1950 Trumbull, Detroit, MI 48216 USA
To join our Writers List, click HERE.
Image credit: "dancing beech 3: Beech tree with remarkable shapes in Kent, England," Jos van Wunnik CC, https://www.flickr.com/photos/kristalberg/32985725905/