Call for pitches: Geez 29 PerSisters, an all-women issue on feminism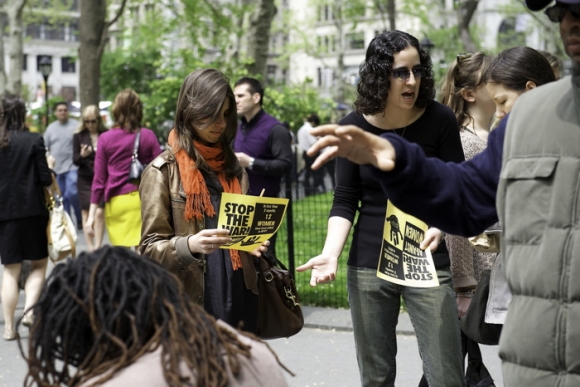 At Geez, we're holdouts for something better than our culture's sad excuses for freedom, liberation and equity for everyone. In our culture, and especially in our churches, we see evidence that the work of the women's movement is unfinished: American nuns taking heat for their politics, denominations still debating over the role of women, politicians blathering about "legitimate rape" and more women than men living in poverty.
In a magazine industry that is still dominated by men, Geez strives for gender parity in each issue. Why does it seem like we get more pitches, and slicker pitches, from dudes? In the PerSisters issue we set out to expand our base of contributors to include more smart, funny, articulate, non-male folks.
We invite pitches for articles or nonfiction stories on the theme of feminism from anyone who identifies as female, trans or genderqueer. We also welcome submissions of poetry, photos and other visual art. Here are some ideas to get you started:
Surfing 1: first wave, second wave, third wave, now what? What's the difference between the waves, which wave are you, and why can't we all just get along?
Surfing 2: how has the digital age changed feminism and feminist organizing? Do sites like Bookslut, Feministing and Racialicious further our cause?
Intersectionality: what do race, class, ability or animal rights have to do with gender? How does feminist work connect with other forms of anti-oppression activism?
Should feminists be Christians? Christianity is patriarchal and oppressive. Why should we bother? Where are the bright spots?
The 12 marks of a new monastic feminist consciousness: So you've changed the pronouns in the hymnals and you agree that God isn't a white dude in the sky, but how do you know your intentional community really gets it?
Sex factor: do issues of gender and sexuality distract activists from less sexy matters like race and class?
Essentialism: is there a place for valuing the feminine and the masculine? What about "the feminine divine"?
Theory 101: Pitch us an article on emerging feminist thought. Explain why it matters.
Geez book of women saints: who are the radicals at work in our time or in the history of faith and activism? Or, give us a fresh take on the relevance of the virgin Mary, Mother Teresa or Dorothy Day.
Jesus loves your clitoris, girl: sex ed for people who don't talk about "it."
Girl culture: what's it like to be a young girl these days? Are the pressures of pop culture and the beauty myth letting up?
Bonus request:
Even if you're not a writer for this issue, we'd appreciate your input:
1. Your statement of 100 words or less: "why I'm a feminist" or "why I'm not a feminist."
2. Your tips for practising liberated spirituality.
3. Write a letter to the editor related to the theme.
4. Send your confession to the Sinner's Corner, where we offer cheeky absolution for your social-justice sins.
5. Tell us what you'd like to see in this issue.
New to Geez? Try pitching for our sections: Culturosities, Civil Disobedience, Experiments and Reviews.
Additional info
Before pitching, please read our guidelines for writers here.
The most up-to-date information on upcoming issues is available here.
Ideally we would like to respond personally to every piece of correspondence we receive. But given the number of submissions we receive – and having tried to respond to all – we realize it is just not possible. If you do not hear back from us within six weeks assume that we were unable to use your submission.
Deadline for pitches: October 20, 2012
Deadline for articles (if assigned): December 3, 2012
Send pitches, manuscripts and images to
Geez Editor, Melanie Dennis Unrau
email: stories [at] geezmagazine [dot] org
mail: Geez Magazine
400 Edmonton Street
Winnipeg MB R3B 2M2
CANADA