Better off: Part one
Dear Geez blog readers,
I'm pleased to introduce a new colleague here in the AmishMash blog department. Christina Crook is a magazine writer partial to snail mail, typewriters and traveling on foot. Her articles on culture, technology and religion have appeared in UPPERCASE, Geez and the Literary Review of Canada. This January she stepped off-line for 31 days, chronicling the journey with a type-written letter a day. Her Letters from a Luddite project was featured on CBC's Spark and is now a book available at Blurb.com. Her website is here, www.christinacrook.com. – Aiden Enns, publisher, Geez
Better Off: Part One
Matthew is the type of friend that knows the proper names of trees and birds and isn't ashamed to tell you.
He always first asks if I'm reading anything interesting.
He's the kind of friend who will pull you into a kayak before a coffee shop, and the kind who'll read The Hobbit aloud to your toddling one-year-old regardless of her level of interest.
He's also obsessed with baseball in a very un-Canadian way and cooks a mean latke.
I know a lot about Matthew, more by the time we spend together than by the things he says. And now, living thousands of miles away from friends and family, I realize this is a rare and beautiful thing.
So, it was fitting that it was Matthew, upon learning of my stirring desire to slow down, that recommended I read Better Off: Flipping the Switch on Technology by Eric Brende.
I say fitting because of the type of friendship Matthew and I had fostered. The kind that took account of ideas before news. The kind that spilled over long meals and slow meanders along the Pacific coast. Fitting because Matthew grew up in an old family cabin sheltered on a hill, in a bay, on a small gulf island off British Columbia's coast — the slowest place I can imagine — and, notably, the utter opposite of my suburban childhood.
I devoured Better Off.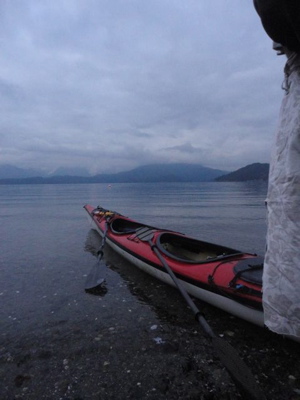 As a student at M. I. T., the bastion of technological advancement, Eric Brende became a critic of modern technology. He and his bride left the bookish hollow of Boston to immerse themselves in a community so primitive in its technology that even Amish groups consider it antiquated. He chronicles the slow appeal while "deftly steering clear of dogma… making the persuasive case that most of us would enjoy life more by radically minimizing our reliance on modern technology," writes Jon Krakauer.
The book demonstrates how a world free of technological excess can shrink stress and expand happiness, health, and leisure. The notion that technophobes are backward gets turned on its head as the Brendes realize that the crucial technological decisions of their adopted Minimite community are made more soberly and deliberately than in the surrounding culture, and the result is greater — not lesser — mastery over the conditions of human existence.
In his chapter titled 'The sound of silence' Brende recounts an evening reading with his wife on the homestead. He'd finally dug into the pages of The Education of Henry Adams, a tome that had intimidated him for years.
"Tonight, to the flicker of a kerosene lamp, I made inexplicable, rapid progress… In the modern university with its rapid turnover of assignments and fast-paced technology, the human brain is treated as just another processing device and is expected to keep pace with electronic blips. But Adam's thought, ponderous and discursive as it was, could not be summarily ingested. He had lived with a culture whose movements were still largely limited by the speed of horses; the ambling cadences of his writing preserved this pace… This was the secret: to grasp his meaning, you had to be living it. Not merely your thoughts, but your various daily duties… had to fold together in a quiet rhythm, an interconnected unity."
"And this explained not only why time moved more slowly but also why we had more of it, why we were able to relax and read the way we were doing right now: in the absence of fast-paced gizmos, ringing phones, alarm clocks, television, radios, and cars, we could simply take our time. In being slower, time is more capacious. The event is only in the moment. By speeding through life with technology, you reduce what any given moment can hold. By slowing down, you expand it."
For me, this was the beginning…