Welcome a New Team of Leaders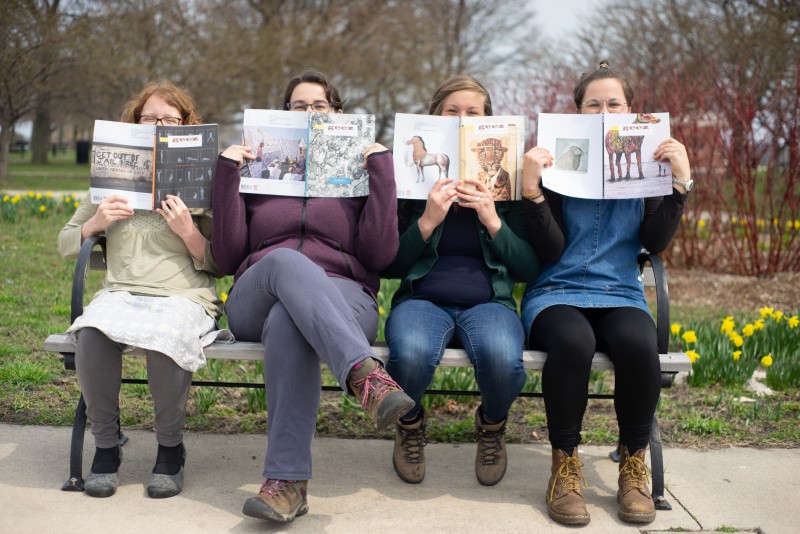 Well, dear readers, this is my last quarterly stretch as the editor and creative director of Geez magazine. I am so delighted to pass the responsibility over to a new and energetic team in Detroit. After 13 years of publishing Geez magazine in Winnipeg, Manitoba, I, as the current editor and one of the founders, am phasing out of leadership.
Over the next several months, and between now and the next issue, the Winnipeg board of directors will dissolve, and operations will resume anew with fresh energy south of the Canada-U.S. border.
Some readers have wondered why we would be in favour of handing this Canadian gem of a periodical over to the cultural juggernaut to the south. I have a couple of reasons.
First of all, this is a practical step for us. After testing some leads in Canada, we cast the net wider and found such enthusiasm, talent and radical experience in the group from Detroit. It felt like a great fit.
Another reason is relational. I have always thought of folks in the United States (and elsewhere) as family. That doesn't mean I like or agree with a lot of what's happening in their nation (or ours, for that matter, which is also still very colonial and staunchly capitalist). I am proud of, and encouraged by, our sisters and brothers who work against misogyny, hyper-militarism, racism, corporate greed, and other ills, from within the heart of the empire. We need to work together as allies, wherever we may be found.
On behalf of the board of directors, I am pleased to introduce the new publishing team. Lydia Wylie-Kellerman will be the the new editor. She is a long-time Geez contributor, editor of our Catholic Worker section, and the co-editor of RadicalDiscipleship.net, a daily online journal of radical Christian faith and social justice activism. Kateri Boucher will be the associate editor and circulation manager, Lucia Wylie-Eggert will be the designer, and Em Jacoby will be the finance person.
Vital as ever
The mission and mandate of Geez magazine seems just as vital today as it was when we started back in 2005. The expression of faith, especially among Christians in the United States, is in dire need of words and actions that subvert manifestations of white supremacy and expose the hostility of a fortress mentality. Inclusivity, compassion, hospitality, peace, and reconciliation – these impulses need articulation and celebration, especially among people at the fringes of faith.
Looking ahead, I will stay involved with the project, but on a less formal basis. I remain so grateful and in debt to the many readers, interns, volunteers, coworkers, board members, writers, publishing colleagues, academics, pastors, and activists by whom I have been shaped and thoroughly enriched. Thanks to everyone!
Aiden Enns is editor of Geez magazine. He lives in Winnipeg, Manitoba.
Dear reader, we welcome your response to this article or anything else you read in Geez magazine. Write to the Editor, Geez Magazine, 1950 Trumbull Ave Detroit, MI 48210. Alternately, you can connect with us via social media through Twitter, Facebook, or Instagram.