Contests
The pulpit is making a comeback - again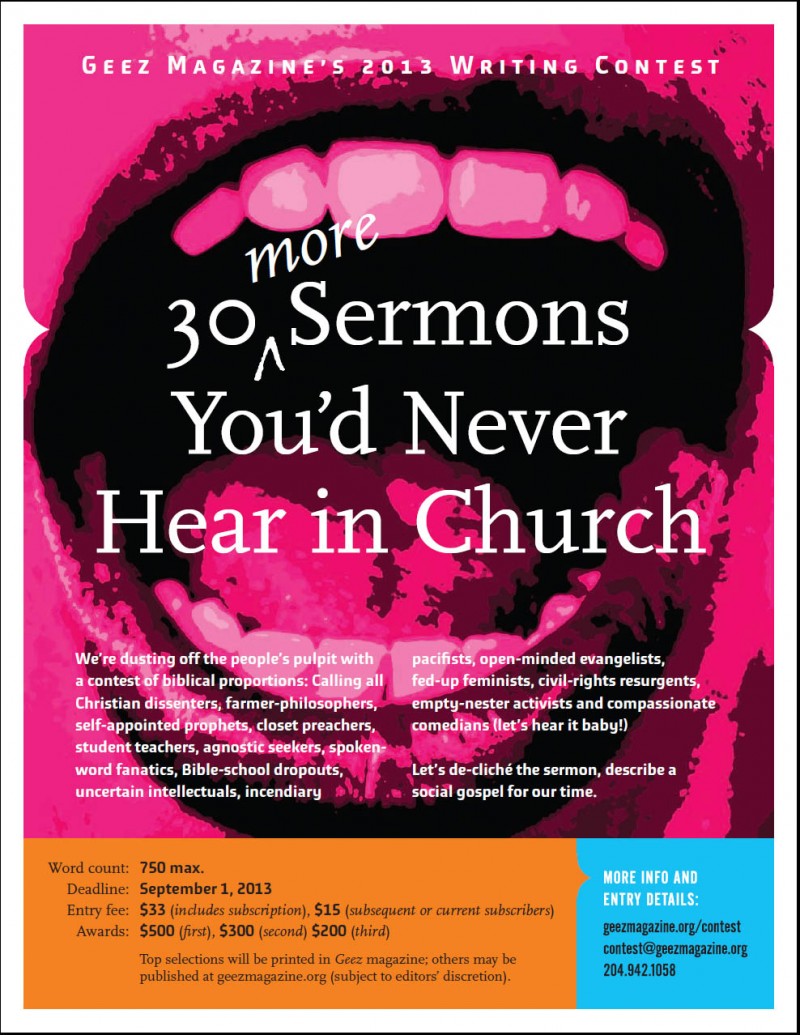 Geez magazine launches contest for '30 More Sermons You'd Never Hear in Church'
Winnipeg, Canada – The social gospel is on an upswing, and the crowd-moving sermon deserves another chance. Geez magazine is calling on the un-churched and over-churched for holy admonitions from the fringes of faith.
The sermon has become a stage where white men with white hair preach condescending three point clichés. Self-help sermonizing has made the plea for social justice passé. While those in the pews may be entertained other pressing issues of our day remain unaddressed – income disparity, ecological devastation, rampant consumerism, class privilege – these are all gospel concerns that suffer from neglect.
"We want to hear from those who wouldn't normally fill the pulpit on a Sunday morning," says Geez publisher Aiden Enns. "If the social gospel is going to be preached today, it will come from the margins, and it won't sound like the Sunday mornings we're used to."
The "30 More Sermons You'd Never Hear In Church" contest builds on the original Geez sermon contest held in 2008. Once again Geez will set up a soapbox for anti-corporate tirades, ecological outbursts and spiritual consolations that surpass the expectations of church as usual.
The era of the post-curmudgeony homily is here, and Geez editors are looking for some spiritual and social wisdom to share. Atheists, activists, rappers and poets (as well as ordinary preachers with everything to lose) are invited to re-imagine what a sermon could or should be.
And wait, there are prizes!
The top sermon will receive $500, with $300 and $200 going to the second and third place winners. The winners, plus a selection of other entries, will be published in the Winter 2013 issue of Geez. Deadline for entries is September 1, 2013. Word limit is 750.
Enter at contest@geezmagazine.org. See www.geezmagazine.org/contest for full details and entry form.
Geez is an ad-free quarterly magazine of spirit and social action. It is aimed at over-churched, outchurched and perhaps even unchurchable souls on the North American fringes of faith. It has been nominated for five Utne Independent Press Awards (winning in 2009) and won top honors at both Canada's Western Magazine Awards and the Canadian Church Press Awards.