Ritual: Crocheting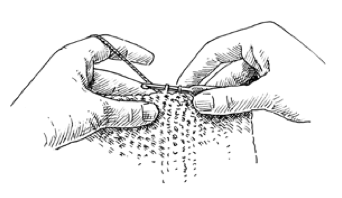 Encounter: Finding life's rhythm through my hands
Description:
Having worked my way through a five-year degree, I dread the question that comes from well-meaning people.
"What are you going to do with your life?"
Sometimes I think I know, but most often I don't. I am very good at feeling lost.
So I begin to crochet. At first, my fingers are stubborn and unwilling actors. They move awkwardly: my right hand fumbles with the hook and my left hand is entangled in yarn. Only after several tries and retries do I finally find a groove, a rhythm that unites mind and fingers. My hands enter a dance, at first circling each other cautiously, and then gradually moving together smoothly. The hook begins to feel lighter and more delicate in my hand. My hands begin to blend with the hook.
As I continue, I am less aware of those around me, more aware of my own body. The rhythm of my hook and yarn becomes the rhythm of my breathing. It becomes the rhythm of my soul.
I crochet to become known, to find my lost self and bring her back.
Rachel Barber is an assistant editor at Geez. She lives in Winnipeg, Manitoba.