Review
Hip Hop Redemption: Finding God in the Rhythm and the Rhyme
Hip Hop Redemption: Finding God in the Rhythm and the Rhyme
by Ralph Basui Watkins (Brazos, 2011).
A book reviewed by Shad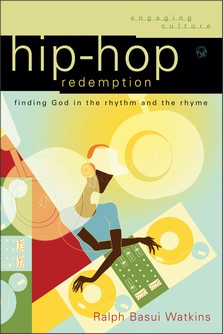 Hip Hop Redemption is an admirable effort by theologian Dr. Ralph Basui Watkins to present and encourage compassionate dialogue with hip-hop culture.
Watkins carefully situates himself as a fan of the music and a capable academic, but not quite a member of the hip-hop generation. His honesty and humility, combined with his willingness to engage with the complexities of his subject and perspective give this work an uncommon degree of depth and authenticity.
For the most part, Watkins's exploration is profound and revelatory. He places hip hop in its proper social, theological, historical and artistic contexts. He manages to deliver a brief but balanced look at the culture without eschewing his moral responsibilities or denying his appreciation for hip hop's people and products. Mining history and scripture, as well as various musical and academic sources, Watkins leads us toward deeper understanding of a culture and a generation that he clearly loves. His sincere desire for truth and healing lends credibility to his perspective and enlivens his writing.
Watkins does, however, overreach at points. As an unabashed fan, he occasionally strains to pull a skeptical or biased audience into his own joyful experience of the culture, with mixed results. I find his text most potent when it strives to create understanding around hip hop, less so when it aims to incite enthusiasm in readers.
With Hip Hop Redemption, Watkins joins Michael Eric Dyson and Cornel West in a small but growing league of spiritual and intellectual fathers for the hip-hop generation. These ministers and academics engage with hip hop out of deep love for the generation who live and express its beautiful, tragic story. Hip Hop Redemption challenges both critics and fans of hip hop in the church by speaking honestly and thoughtfully, not settling for simple answers but inspiring us to look with loving eyes for God's presence in even the darkest corners of our culture.