Original Paper Doll and Costume Design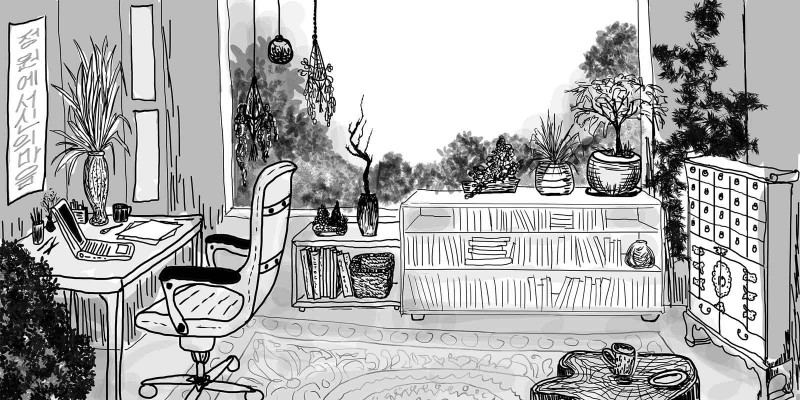 For Geez 67: Craft at the End of the World, Geez commissioned "Bard Judith" Alkema to create custom paper dolls that live lives filled with community, craft, and meaning.
Meet the Paper Dolls
Jain Ryan is 36. She's an extroverted empath of Irish and German ancestry and lives in a small coastal town near Portland, Oregon. She runs an independent co-op and is a herbalist, just getting started as a beekeeper and microbrewer. Sings alto, likes cheese, cats, jazz, and mead.
Eun-Mi Lee is a 44-year-old INFP. Their parents emigrated from Korea when they were a toddler, to Vancouver, British Columbia. Eun-Mi is fluently trilingual (English, Korean, and French) and works as a government translator. They restore old books, find baking a therapeutic hobby, play flute, and are learning violin. They love kimchi, kombucha, birds, and Chopin.
Enjoy getting to know Jain and Eun-Mi. Find them in your issue on quality paper or download and print them. Cut along the dotted line and enjoy the traditional clothing of their numerous crafts. Online only, you can find Jain's bee hives and Eun-Mi's study to print and enjoy as a play scene.
Preview the images below and download them from the folder here.
"Bard Judith" Alkema is an autistic, bardic, Celtic designer, expat fibromyalgic graphic-designer hedgecrone, INFJ journaling keeper-of-images, liminal matron/nestbuilder, organizer, pilgrim, querent, reader, singer, tenacious unschooler, worship leader, xenophanic, youthful zymologist. She resides on the East Coast of South Korea with a professor spouse, artist teen, and two cats (the calico modelled for the paper doll is "Sweetie"!) The two paper dolls featured in this issue, their crafts, and their costumes are inspired by her art community in South Korea as well as her 1812 Canadian reenactor friends.
Beehives Left

Beehives Right

Study Left

Study Right