The spirit of giving?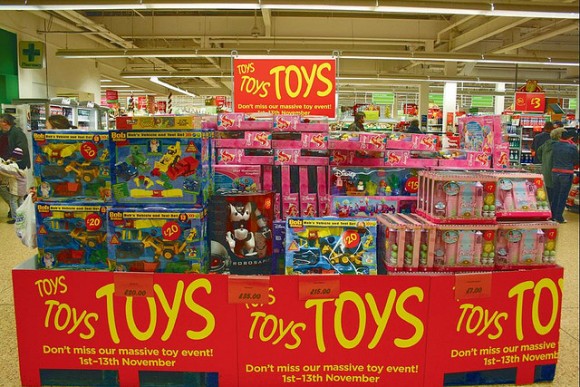 Exasperated, I've been finding myself sighing, pacing, rubbing my forehead, maybe even sweating a little in the toy aisles of Department Stores and Big Box Stores – places I haven't been in over a decade. I've been Christmas Shopping for a 5-year-old kid, which is an exceedingly common experience for most people. I have found it numbingly complex.
This particular 5-year-old is a stranger to me. He was one of 10 anonymous kids on a list posted at our son's daycare. All the parents at the daycare were told to pick one of these "less fortunate" young'ns and make sure they had a Christmas befitting all kids on the 'Good' list, at least in terms of the goods.
It was an act of charity thrust upon me, and I will admit that I was unsure of this whole idea from the start. I picked a boy and the youngest boy because I thought that this would give me more of a sporting chance in selecting a worthy present than, say, for a teenage girl.
Soon, faced with a great wall of Chinese-manufactured plastic all apparently intended to get toddlers to join the military, I saw the shortcomings of my strategy. The fads gripping the young people of any age or gender are foreign to me. I was in over my head. That is when the whole scheme became clear. I was supposed to do some kid a kindness by randomly selecting a corporate token with an improbable chance of making him happy even for the fleeting time that any object can. Nice.
My own young kids get no presents from me. Even if they did, these presents would almost certainly have been gleaned from summer garage sales. Maybe I'm just lucky that they are still too young to really know the difference. Knowing the difference is exactly where it gets complicated.
There's a prevailing image of Christmas sold to kids which is so dominant that it makes any digression from that image stand out like a talking snowman or a 60 watt nose. Even though I try to avoid and resist the destructive-yet-normative aspects of the season in my own family, I had to make this kid's Christmas seem as normal as possible, even if that very same normal is the basis of the social inequality that puts me and this kid into this somewhat degrading, non-relationship in the first place.
I found that the impressive-looking toys are out of my price range. The other toys would only make Christmas worse. Continually I try to recall, like a fading dream, how buying a hardened chunk of oil molded on the other side of the world under the worst (but cheapest!) conditions, and that will probably be landfill by summertime, is doing a good deed.
On the other hand, I can afford to get this kid something and a second-hand Montreal Expos pennant or a homemade board game are not going to bolster the poor lad's belief that Santa does indeed come and ultimately, that life is fair. Wait, what? Ok, it will mean something to him, maybe to his mom too, I assure myself.
In the end I was defeated and gave up on Canadian Tire and Zellers, which had seemed like the only way to grasp the wildest dreams of modern 5-year-olds. At a good ol' fashioned, locally-owned, though massive and crowded toy store I covered all my bases and got the lucky little fella cars that flash down a glow-in-the-dark track, a squishy football, robot stickers, and a robot claw that can grab stuff otherwise out of reach. For whatever it's worth.
Aaron Levere is Culturosities Editor for Geez Magazine