Staying Connected Through COVID-19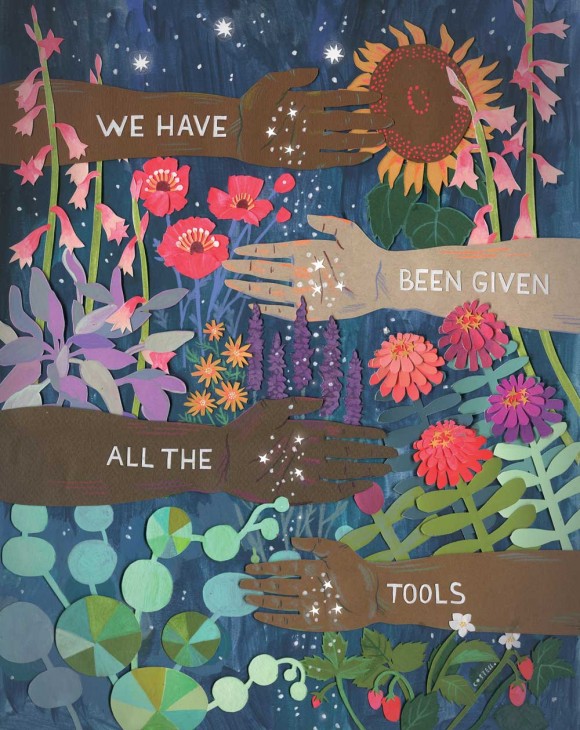 Dear Geez community,
I am writing to you from a little carved out space in our storage/guest room while my partner spends an hour with the kids creating math problems and writing in their gratitude journals. I've taped new hand-written schedules to our walls which includes time for quiet, play, learning, and outdoors.
This morning my kids asked me why it says "5pm: Porch Time." On Sunday, we joined a neighbourhood Zoom meeting where we talked about how we are feeling and ways we can support one another. It was bizarre to look at my neighbours' faces through a screen. One thing we decided to implement immediately was that every day from 5-6 pm we would sit on our porches at the same time to see and wave to each other. Taking a note from Italy, we decided that on Sundays, we would bring instruments and sing and dance.
I am mindful that each of us is experiencing a different stage of the Coronavirus crisis – maybe some are still waiting for it to hit your area, while others are learning about social distancing and shut downs, and others are already seeing hospitals fill to capacity.
As my heart and head weigh the news and recommendations and numbers. . . I think about how this is the kind of crisis our Geez community has been preparing for with our lives. We've been building communities of care, practicing living locally and simply, and we've been asking what it means to live humanly in the midst of fear and chaos.
Counterintuitive Care
Yet I stumble writing the words "to live humanly." Social distancing seems so counterintuitive to how I understand living humanly. Right now, I want to smother the elders in my life with hugs and backrubs. I want to invite those living alone over for tea. I want to light a bonfire and invite over my neighbours to share food. I want to swap childcare. I want to come out of our doors and fences and bring our bodies together and breathe and cry and scream and laugh and sing. I want to be with the dying. I want to be there to touch death and bury the bodies.
I'm supposed to love my 70-year-old father who suffers from multiple health conditions by not being with him? Everything inside my soul is confused!
How do we live humanly apart from one another?
How do we live humanly when we can't visit the sick in the hospitals?
How do we live humanly without libraries, schools, and soup kitchens?
How do we live humanly when we cannot gather to pray and break bread?
How do we live humanly as weddings are postponed and funerals have limited seating?
How do we live humanly into the fear, anxiety, and grief?
We can live humanly. And we must. We are resilient. We were born for this time and we will never stop loving one another and caring for each other's needs. But this moment demands new imagination – a reorienting of our bodies, hearts, and love.
How do we do it? I don't know. I am mostly filled with questions. But I trust we are going to live into the answers. As we do, let's share those stories with one another. We need one another. We would love for you to write us a note with what you are seeing and learning.
In a Time of Digital Love
As an organization that claims "print media or bust," I am watching the ways communities are utilizing screens for work, organizing, and relationship. These days, social media can connect us, but it can also overwhelm our nervous systems. Connecting on screen and through phone lines is part of how we keep learning and saying I love you. But it is also good to step away. To light a candle. To read a book. To write a letter. To go outside.
In the mail any day, subscribers should find a new Geez magazine. Perhaps it's an extra gift when you are stuck at home wanting to read some good words. The issue is on disobedience and the law. It is filled with stories about the power and beauty of bodies gathering in the streets. Grounding in our bodies amidst pandemic seems like a needed reminder. Yet the irony of the moment does not escape me. Two weeks ago, the political moment seemed ripe for a sudden revolution of love through all our streets. What does it mean now that we can't organize in the streets? What does it mean if we can't bring our bodies together and act publicly?
On one hand, it seems dangerous to think of not being able to act together when the moment demands it. And on the other hand, I think of Vincent Harding, civil rights ancestor, who said, "You can't start a movement, but you can prepare for one." Perhaps this is a time of great preparation.
What is Exposed and How We Prepare
In a matter of months, factories have stopped pumping pollution, airplanes have grounded, capitalism has been stopped in its tracks. In the United States, this crisis has exposed the terrors of our privatized health system. A lack of workers' rights is pushing folks to either stay home without a paycheck or risk going into work while hunting for affordable childcare with schools closed. The underbelly is being exposed.
This is indeed a time of preparation. A time to take inventory of those in our communities who are the most vulnerable. Out of love for our elders, we must let them step back to rest, care for their bodies, and intercede for the rest of us. We must carry on their work. It is a time to embrace a new pace and understanding of time. As many of us are forced to dip our toes into the work of homeschooling, let us teach our kids the lessons they don't get at school.
So use this time to rest, to tend to your soul, to organize around needs, to love in new and creative ways. Call an elder and listen to their stories. Bake unusual things with the stuff from the back of your cupboard. Plant seeds because we don't know what is coming. Serenade your neighbour from your porch. Meditate on what things should not go back to "business as normal" when this virus has passed. Embrace the very most local of communities that surrounds you. Name your fears. Cry your griefs. Scream your anger. Pay attention to the moment. Make art. Bear witness. Move forward one step at a time.
In the Remote Geez Offices
We at Geez are thinking about what needs to be done and what can wait. We are holding the work and one another gently. While you anticipate the spring issue, we are already deep into sifting through pieces for the summer issue on trees. I think this issue might just save me. The words and images are reminders to go be with the trees. They hold strength and wisdom and beauty. They are gentle and strong. They are always present and always preparing. They are medicine in these days. I ache that I cannot wrap my arms around my loved ones today, but I can go out and wrap my arms around a tree and let it hold me.
Let's hold one another in love and strength and hope. I give thanks for being human in this moment with each of you.
Lydia Wylie-Kellermann
Editor, Geez
Image credit: From Geez 54: Climate Justice: Molly Costello, "All the Tools," 2018, cut paper illustration, 11×14.