Pharisee Activists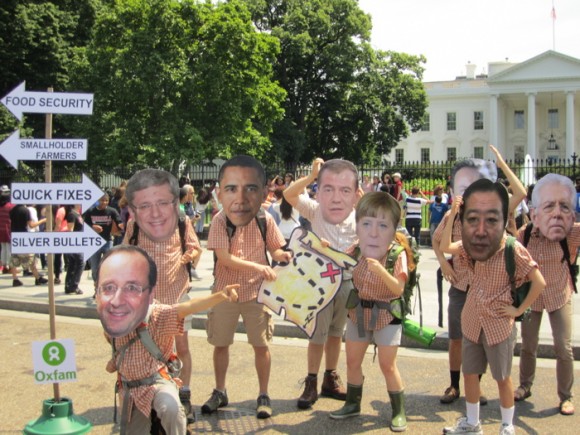 Geez correspondent and World Vision's global justice advocate Sharon Marshall is at the G8 in Washington DC for Geez, to uncover why anyone should care about this kind of hyped-up power showcase. Here's what she had to say about the Obama's big food security announcement.
When Obama threw a huge shindig at the beginning of the G8 Summit to announce an African food security alliance with big businesses and governments, I should have been dancing with joy with my activist friends. I went there ready to celebrate. We've been harassing all of them for years to get involved and do their part. I really do believe the only way families in Africa will be free to build secure futures for themselves is if governments, private sector and civil society take up the responsibility to clear the path for them.
I found myself sitting at the posh event with a knot in my stomach, feeling violated. Presidents of big corporations like Monsanto were finally using "our" words—saying things like "women and smallholder farmers have to be at the centre" and "nutrition goals must be integrated into agriculture plans". And, they were all putting money on the table and vowing to work in partnership. Do they know what they're saying? Do they know what those words really mean? Are they going to take the words and make them mean something else or make them meaningless by using them for their own goals? One speaker talked about the need to exploit the yield gap of every hectare of land. "Wait," I thought, "That's not what it means." And that thought came back and back again as speaker after speaker rose to pledge their support.
Maybe that's what the conversations between the Pharisees and Jesus were like. They could both read the words of the law. They knew them inside out. They understood them differently. So how do you bridge that gap of understanding?
Jesus told stories and did things that challenged interpretations directly. They talked together about the meaning of the law. They didn't all agree, but the meanings of those words in the law must have changed for some of the people.
Maybe the answer is in what Bono said at Obama's big bash. "We won't have food security without transparency." He doesn't trust that these businesses share his meaning of partnership or food security or nutrition either. We have to keep saying what we mean, doing what we promised, and checking in with each other to make sure those families in Africa that this is supposed to be about are actually experiencing positive change.