Joyful Resistance Box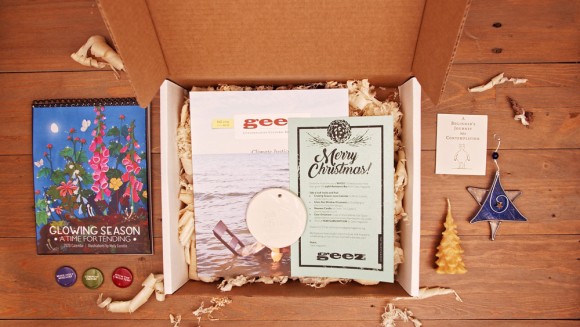 Are you still having trouble finding the perfect gift for your progressive-but-not-yet-radical minister, your post-Christian crush, that lone flip phone-using friend, or your activist, vegan grandkid?
Those just happen to be our people and we have a meaningful gift for them this holiday: the Geez Joyful Resistance Box!
Included:
Growing Season 2020 Calendar by Molly Costello
Glass Star by DortDesigns
Beeswax Candle by Green Toe Gardens
Ceramic Geez Ornament made by the Geez staff at MannaWorks Clay Space
Geez buttons and Mini Book: A Beginner's Guide to Contemplation
And a 1-YEAR SUBSCRIPTION to Geez magazine!
We would be delighted to put a beautiful box in the mail to the person of your choice. Purchase a box for $110 on our store here. Joyful Resistance Boxes will be available for order until December 9 (while supplies last). Then we will package them up and make sure they get to your loved one by December 20.