Circle to Tend these Fires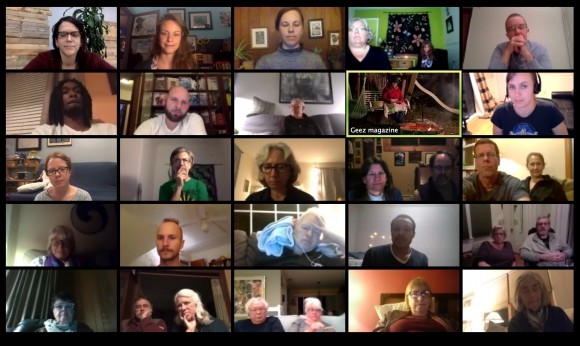 As darkness drew in, Geez gathered for its first virtual release party over zoom. We built a fire, summoned the ancestors, sang, read poetry, shared art, and tended to our souls. In a spirit of collective creativity, we opened the chat box and wrote together a prayer for this time. What you find here was written by many hearts around North America.
As we draw this beautiful night to a close,
and draw a coal from the flames to carry into our homes,
we give thanks for the nourishment of word and art and community,
for the reminder of the power that dwells in story.
Oh God, who is known by many names.
who dwells in darkness,
who dances in fire,
who rests with us in sorrow,
who prods our heart and feet
ever towards justice.
We have called upon a holy gathering of saints and ancestors,
Ardeth, Murphy, Jeanie, Margaret, Bill, Al, Dolores Dan, Martin, Ambrose, Vicky, Eugene, Sylvia, Wendy, Nicole, Zelma, Peter, Rene, Walter, Tom, Loretta, Grace, Jazzy, Eric.
We give thanks for all those named aloud, written, and those who linger in our hearts.
Thanks be for their lives,
their love, their work,
and their beings in this Beloved Community.
This night we remember that the dead are not in the earth,
but found on the edge of the lake
and in our dreams.
They are in my grandmother's cast iron skillet
and the doorways of the Catholic Worker.
They are in my children and my parents' stories,
in the mittens my mother knit,
and the streets of Louisville.
I hear their voices in the wind and the stirring leaves,
in the quiet fog and the gentle cry of the owl at night.
We remember and honor each of them this day
by saying their names, lighting candles,
and baking my great grandma's homemade pie,
We remember them through
VHS's tapes and internet passwords.
Through silence and tears,
we honor them
by learning traditional crafts,
saving seeds and repairing legacy,
voting and remembering the land.
And surrounded by a Cloud of Witnesses filled with feisty, courageous, holy mischief makers, we dare to pray for….
a freedom from death,
a chance to lean into mystery,
reparations and abolition,
and a world where death is a sister not a weapon exploding.
With gratitude for a gathering of spirits, stories, and kindred friends from near and far. Amen.