Call for pitches: Geez 28 Worship and Anarchy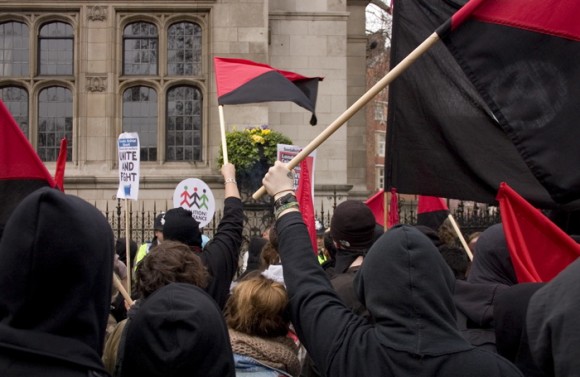 In Geez 28 we explore the anarchist impulse in Christianity. We find it in the examples of Jesus, who defied the Roman officials to their faces; Paul, who said we bow to no human authority; the Anabaptists, who were hunted for sedition while also being pacifist; and in the Reformation phrase coined by Luther and championed by the anabaptists, "the priesthood of all believers." And we find it among the Jesus Radicals, the Catholic Workers, the Christian Peacemaker Teams and other co-ops, collectives and communities. Here are some ideas for your pitches:
Spirituality and anarchism:
Should we worship a heavenly king when the metaphor stinks of feudalism and tyranny?
How do you connect with a higher power or a larger purpose without sacrificing your autonomy?
What's a feminist theological take on John Howard Yoder's "revolutionary subordination" (is it even possible?)?
Can I be a Christian and an anarchist?
Stereotypes throwback:
Tell us what it is about anarchists that rubs you the wrong way.
Pitch a myth-busting article that helps readers get over their hang-ups or a profile of a real-life Christian anarchist.
Social change, regime change: If contemporary democracy has been co-opted by corporate interests, what's an alternative vision for citizenship and governance of information-age societies?
Make us laugh: Geez loves smart, fun writing – or comics, sketches, a few pages from your zine…
We'll accept worship and anarchy pitches related to theology, pop culture and cultural politics, activism and social change, plus snapshots (short, personal stories related to the theme).
Special requests:
We have no honorarium but much gratitude for these contributions:
Name a small step, action or habit you use to disrupt unjust social norms in your daily life.
Send a letter to the editor related to the theme: with as much grace and humour as you can muster, share your struggles with submitting to hierarchies (at home, work, church, nation).
Send your confession to the Sinner's Corner, where we offer cheeky absolution for your social-justice sins.
Tell us what you'd like to see in this issue.
New to Geez? Try pitching for our sections: Culturosities, Civil Disobedience, Experiments and Reviews.
Additional info
Before pitching, please read our guidelines for writers here.
The most up-to-date information on upcoming issues is available here.
Ideally we would like to respond personally to every piece of correspondence we receive. But given the number of submissions we receive – and having tried to respond to all – we realize it is just not possible. If you do not hear back from us within six weeks assume that we were unable to use your submission.
Deadline for pitches: August 6, 2012
Deadline for articles (if assigned): September 21, 2012
Send pitches, manuscripts and images to
Geez Editor, Aiden Enns
email: stories [at] geezmagazine [dot] org
mail: Geez Magazine
400 Edmonton Street
Winnipeg MB R3B 2M2
CANADA