Billy Graham meets the evangelist of outrage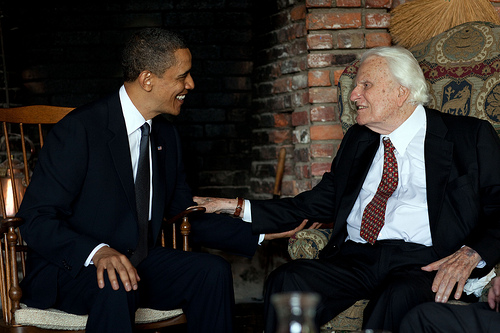 President Barack Obama meets with Billy Graham at his house in Montreat, North Carolina on April 25, 2010. (Official White House Photo by Pete Souza)
I wrote the following article for Canadian Mennonite magazine.
I recently received two books by authors in their 90s: Nearing Home by Billy Graham, and Time for Outrage by Stéphane Hessel, a retired French diplomat and concentration camp survivor who helped draft the United Nations Declaration of Human Rights. Each book conveys a strong sense of mission and each is made more compelling by the author's age.
"It won't be long before God calls me home," Graham writes. While Hessel, a Jew with humanist inclinations, says "the end is in sight." These books are their final public messages. Beyond that, similarities between the books thin out, but I find them complementary nonetheless. They mirror an important tension in the Mennonite church.