Toronto Star shines on Geez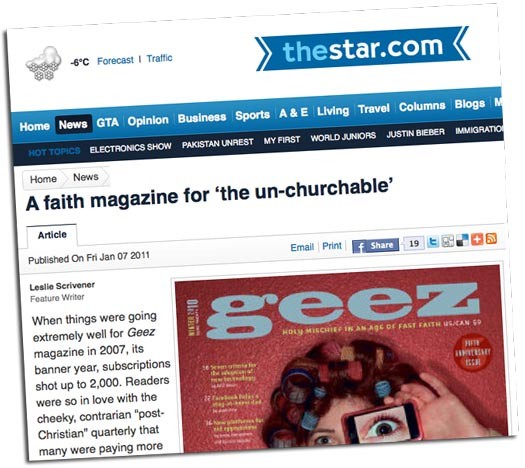 I'm thrilled to see a report on Geez in the The Toronto Star this weekend, see the story here. Before Christmas we sent out a bunch of magazines to a handful of media outlets.
Leslie Scrivener, a feature writer at The Star, called while I was visiting family on the west coast. We had an hour-long conversation, with several follow up calls. She also called Darin Barney, a hot-shot philosopher from Montreal who said some kind things about our humble publication:
" 'It fulfills the critical mission perfectly,' says Barney, the Canada Research Chair in Technology and Citizenship. 'Often the first target of criticism is itself — not as a magazine, but as critical Christian writers, they turn their questioning ethic most vigorously on their own faith and their own practices. Not as a way of tearing these down, but interrogating them in a productive, fruitful and progressive way.' "
Aiden Enns, editor Geez magazine
See more media reports on our Press page here.