Church leaders join peasant fight against Italian energy company in rural Guatemala
Faith-based agencies have people stationed around the world. These people are well-positioned to report back on newsworthy events where they are located (though this role is not adopted often enough). This sort of reporting is particularly important when these people are in remote locations where mainstream media are unlikely to go. The following is a prime example of this sort of faith-based journalism. – Will Braun, former Geez editor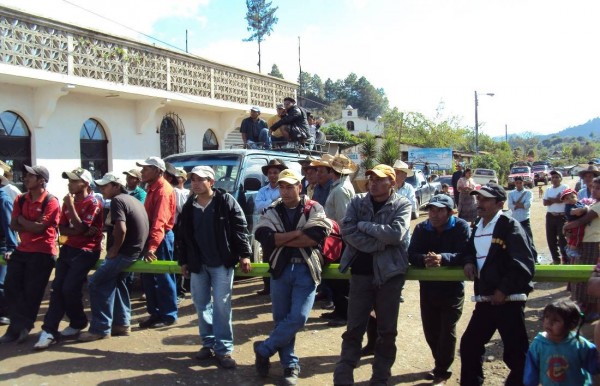 Mayan Ixhil people block a road used by Italian-based energy company ENEL to access the site of a hydro-electric dam it is building in the western highlands of Guatemala. Photo by Diego Santiago Ceto.
Church leaders join fight against Italian energy giant in rural Guatemala
By Tobias Roberts, Mennonite Central Committee, Guatemala
Tension filled the cramped, block-wall room in the Guatemalan highlands as indigenous leaders sat across from negotiators for ENEL, an Italian-based energy company building a $228-million hydro-electric dam in the area. Local Mayan Ixhil leaders hoped the presence of a renowned Catholic archbishop, a prominent Presbyterian clergyman and a Mennonite development worker from the U.S. – me – would improve their chances in the high-stakes negotiations.
Community leaders in the heavily Catholic area first invited us to be part of the talks in May 2011, when ENEL agreed to sit down with indigenous peoples on whose ancestral lands the Palo Viejo Dam is being built. Guatemalan Archbishop Ramazzini, an internationally recognized defender of human rights, and Dr. Vitalino Similox, head of the Christian Ecumenical Council of Guatemala, helped facilitate the talks. I sat in as an international observer, having been sent to the area by the North American-based Mennonite Central Committee. Read the rest of the story at Huffington Post.