Zondervan 'sin tax' great idea

Will Braun just wrote a great piece on Rupert Murdhoch and his NewsCorp scandal.
It's research rich, it's got punchy language and has a call to action that doesn't demonize our opponents. Why the heck should all us well-meaning Christians support a publishing tycoon and, if the allegations are held, a publishing shyster?
He supports a "sin tax" for Zondervan customers, i.e. pay 10 percent to a local initiative. He writes:
"Geez magazine editor Aiden Enns suggests a self-imposed tax or tithe on Zondervan purchases. If you buy a $20 Claiborne book, give an additional $2 to a good cause (maybe the Interfaith Center on Corporate Responsibility). Call it an ethical compromise tax, or a 'sin tax' as Enns puts it."
Great idea, I hope it spreads.
Alert Geez readers may recall in our very first issue, back in 2005, we did a little "culture jam" on Zondervan. That is, I "circumcised" my scriptures: I took a sharp knife and cut the Zondervan logo off the spine of my New International Bible.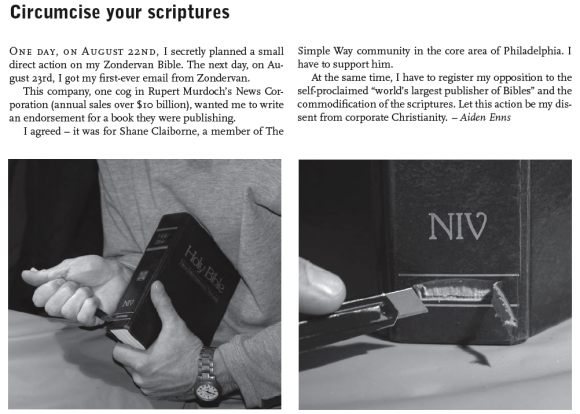 It was my attempt to sever ties with the media mogul and the holy word. It's also my attempt to, symbolically at least, address the problem of commercial media: the profit motive favours the rich and powerful. This is so obvious that we don't even mention it.
But the mental environment (to use a phrase from Adbusters) is, sadly, crafted predominantly by commercial interests. Yes it serves consumers, but it also serves to dehumanize us at the same time.
I wrote about this in a 2009 Geez article, C'mon, a washable Bible?
See Will's article, Rupert Murdoch: Bible mogul, on his Holy Moly Blog here.
Aiden Enns is editor of Geez _magazine. He can be reached at aiden [at] geezmagazine [dot] org