Joint statement against criminalization of journalist Justin Brake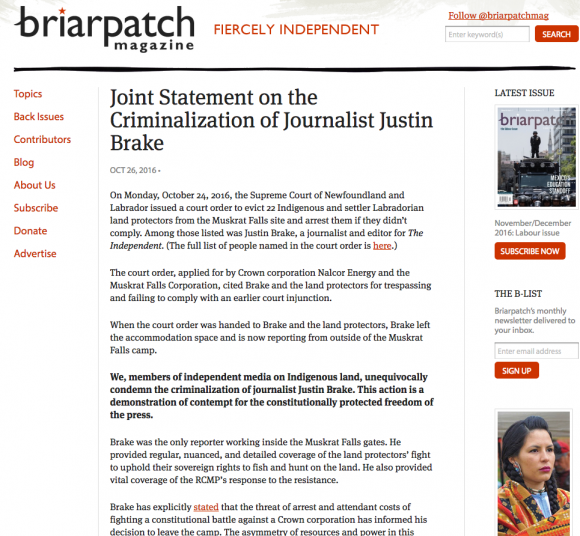 With support from members of our board of directors, I just added Geez magazine's name to a list of signatories supporting freedom of the press when it comes to covering Indigenous demonstrations and protection of the land and water. A journalist was arrested for monitoring the actions of a protest group.
This statement is basically a condemnation of the criminalization of a journalist for reporting on protestors. The journalist (Justin Brake from The Independent in Newfoundland) has cited the Truth and Reconciliation Commission recommendations for the media (no. 84), in reference to telling stories of Indigenous people in light of colonization. And the statement commits to be watching how the judiciary proceeds in the future.
The concluding sentence is powerful:
"It is incumbent upon journalists, editors, settlers and allies who are guests on Indigenous land to support Indigenous land protectors exercising their inherent rights, and to support journalists like Brake who dare to report on settler-colonial corporate-judicial cooperation meant to silence resistance."
I believe this.
Thanks to Tanya Andrusieczko and Briarpatch media collective for taking leadership.
Aiden Enns
Geez magazine