Geezcast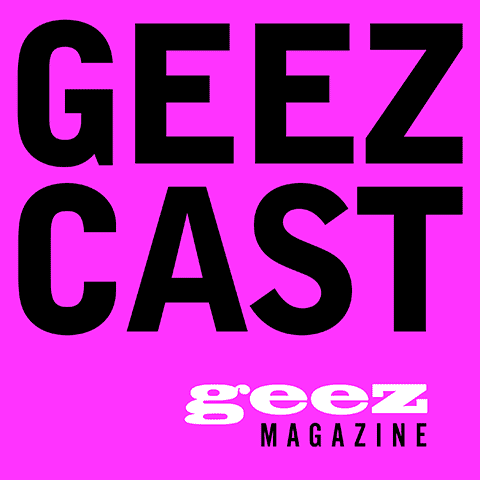 Geezcast is the bi-weekly audio companion to Geez magazine.
The idea for starting a podcast began with subscribers telling us that they love Geez, but that a print version was inaccessible to them. Geezcast will highlight content from current and previous issues of Geez magazine and provide an opportunity to interact with readers and contributors.
Listen to an intro below, and there's more to come. Keep an eye on this page and on your favourite podcast app!
Howdy, It looks like I forgot to hit "save entry" when uploading this episode to our website. It was up on podbean, so please do subscribe to make sure that you never miss an episode. Our next episode will be coming out next week and I am excited to be talking about our new issue: Geez 49 — Gender. Gender will be in the mail and on news stands starting next week.

This week we speak with Wendy Herring about her poem Last Word, which was published in Geez 48: Fear. Join us to hear Wendy read her poem and to discuss what it is like to tell other people's stories through poetry. I really enjoyed getting a chance to talk to Wendy about her work and would encourage you to check out her poems for yourself!

This is our second episode and our first interview for the Geezcast! Today we'll be chatting with Miriam Meinders, a long-time supporter of Geez and guest editor of Geez issue 7: Monsters in our midst. I caught up with Miriam to talk about that issue and about the idea of our culture of monsters. I really enjoyed hearing about how our monsters today stack up against our ancestral monsters. I also enjoyed dodging her question to me about the monster that I fear the most.

We love your feedback, so please get a hold of me at chris@geezmagazine.org or find us on facebook https://www.facebook.com/GeezMagazine/ .

We found a partial case of Monsters in our midst hiding at the back of our archives last summer, so you may still have a chance to get your copy. Head over to https://geezmagazine.org/magazine/issue/issue-7/ to place your order. While you are there, please consider making a donation or subscribing to Geez magazine. Let us know in your order comments if you listened to this podcast.

Hello there from Geezcast. Consider this episode 0. Listen in to hear about why we think a a podcast is important for Geez and come back in May for our first interview.
Page 1 of 1