Geez Warehouse Sale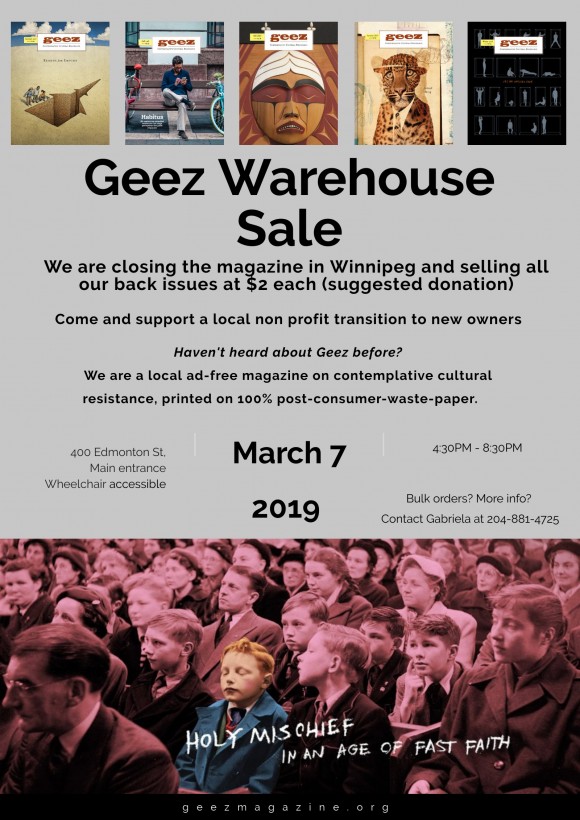 Big transition ahead. Our publishing office is moving to Detroit (see a front page story in Detroit here).
In-person sale
On Thursday, March 7, from 4:30-8:30pm you are welcome to stop by the office and say hi to the Geez Winnipeg staff and board.
400 Edmonton Street
Winnipeg Manitoba
Enter at 406 and turn left into the church and head to the second floor. Wheelchair access: use the same entrance [there's a ramp] and head to the back of the entrance, take the elevator to floor 2R.
Come celebrate the 52 locally-produced issues of cultural resistance. All of our back issues will be available (while supplies last, a few are sold out). Suggested donation price is $2 per issue.
Online sale
Not able to make it out to the sale in Winnipeg? No problem. Visit our online store to purchase back-issues at a discounted rate. Magazines online are $2-$5, plus shipping.
Bulk orders
Want to purchase 5+ magazines? Shipping gets cheaper. Just email us at subscriptions@geezmagazine.ca and we will respond with the shipping cost for your custom order.